World news story
Human Rights Council 34: UK Explanation of Voting on the Georgia Resolution
This UK statement was delivered during discussion of the resolution during the 34th session of the Human Rights Council on 24 March 2017.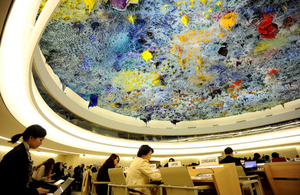 The UK wishes to thank the delegation of Georgia for its presentation of L.13 entitled "Cooperation with Georgia".
We commend Georgia for its ongoing and constructive cooperation with the Office of the High Commissioner for Human Rights through its representation in Tbilisi. Georgia's recognition of its own ongoing challenges and its willingness to accept outside assistance from the OHCHR deserve our positive recognition and full support.
However, we deeply regret that staff of the Office of the High Commissioner are systematically denied access to the regions of both Abkhazia, and South Ossetia. This concern was specifically cited by the High Commissioner for Human Rights in his statement to the Council at the previous session in September . The High Commissioner stated that despite the continued allegations of violations which his Office received, no access had been granted. These alleged violations, which include arbitrary detentions, torture and restricted freedom of movement should concern us all.
The current draft seeks to respond to this concern, in a moderate, practical and human rights-focused fashion, by calling for access to both regions by the Office of the High Commissioner for Human Rights. It also aims to raise the level of knowledge of, and attention to, the human rights situation there through the provision of reporting by OHCHR to the Council.
At its core, this resolution is about access, it is about cooperation and it is being brought before the Council by the country concerned. The Council should always support cooperation with the UN's human rights mechanisms, whether these be the mechanisms of this Council, the treaty bodies, the Office of the High Commissioner for Human Rights or regional mechanisms.
Furthermore, given the highly troubling reports of violations in Abkhazia and South Ossetia, independent monitoring and reporting is clearly needed and would serve to improve the human rights situation in these regions of Georgia.
The United Kingdom will therefore vote YES on L.13 and we call on all members of the Council to joins us in supporting this draft resolution.
Published 24 March 2017