World news story
Human Rights Council 34: Human Rights situation in Sri Lanka
This UK statement was delivered during the 34th session of the Human Rights Council on 22 March 2017.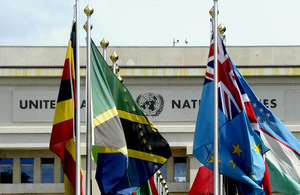 We welcome the High Commissioner's report.
We join the High Commissioner in recognising the steps taken by the Government of Sri Lanka since January 2015 to improve the human rights situation in Sri Lanka, in particular the restoration of important democratic checks and balances, improvements in respect for freedoms of expression and movement, the return of land held by the military to civilians, the passing of legislation to establish an Office for Missing Persons, the ratification of the Convention on Enforced Disappearances and the initiation of a process of constitutional reform. We commend these measures.
However, and as the High Commissioner's report clearly states, much remains to be done. We urge the Government of Sri Lanka to provide the determined leadership required to deliver fully on the commitments it made when co-sponsoring resolution 30/01 and to develop a comprehensive and time bound implementation strategy. In particular, we encourage the Government to deliver meaningful devolution through constitutional reform, establish credible transitional justice mechanisms, return all remaining military-held private land and replace the Prevention of Terrorism Act with human rights compliant legislation.
We also commend the work of the Consultation Task Force on Reconciliation Mechanisms and encourage the Sri Lankan government to give due consideration to its recommendations.
Bringing about reconciliation and the conditions for lasting peace in Sri Lanka will require a concerted effort from all parties. The UK will continue to support and encourage the Sri Lankan government to this end.
One recommendation in the report is for continued UN support to Sri Lanka. What are the High Commissioner's priorities for assistance?
Published 22 March 2017