World news story
Human Rights Council 34: Human Rights situation in Guinea
This UK statement was delivered during the 34th session of the Human Rights Council on 22 March 2017.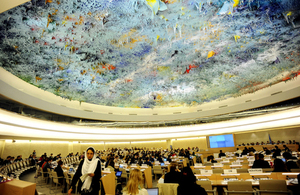 The UK would like to thank the High Commissioner for his report on the human rights situation in Guinea.
The UK recognises the progress made by the Government of Guinea in some areas of human rights. We welcome the removal of the death penalty as a form of punishment in Guinea's new Criminal Code and Code of Criminal Procedure. We also take note and commend Guinea's efforts to combat torture by defining it in line with the UN Convention against Torture.
We also welcome the Government of Guinea's efforts, working alongside development partners, to improve healthcare facilities across the country. This is crucial in a post-Ebola climate.
We share the High Commissioner's concerns regarding the slow progress made in the fight against impunity. In particular, the need to hold to account those responsible for the human rights violations committed in September 2009. We urge the Government of Guinea to hold trials without delay, so the victims can obtain justice.
We recognise the efforts made by the Government of Guinea to implement strategies that tackle female genital mutilation, and urge the Government to take further steps to ensure full respect and enforcement of all relevant legislation and the prosecution of perpetrators and their accomplices.
The report mentions the technical assistance provided to Guinea to help protect the rights of the child, especially in terms of combating trafficking of children. What is your assessment of the progress made in this area, including any reduction in the numbers?
Published 22 March 2017