World news story
Human Rights Council 33, UK Statement on the Universal Periodic Review of Tajikistan, 22 September 2016
Human Rights Council 33, UK Statement on the Universal Periodic Review of Tajikistan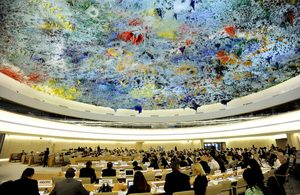 Thank you Mr President,
The UK thanks Tajikistan for its continued engagement with the Universal Periodic Review process.
We welcome Tajikistan's acceptance of the recommendation that they ratify the CRPD and note their response to our recommendation to introduce measures to ensure the free, fair and open conduct of trials in accordance with international standards including access to legal counsel in pre-trial custody.
We remain seriously concerned about restrictions and pressures on legitimate political opposition and encourage Tajikistan to uphold freedoms of expression, association and assembly. We also remain concerned about restrictions on civil society and the funding of NGOs. We call on Tajikistan to ensure that all legislation adopted is in line with its international human rights obligations.
We are disappointed that Tajikistan has not supported the recommendation from the UK and a substantial number of other countries, that they sign and ratify the OPCAT. The Protocol sets out an effective process for preventing torture by establishing a National Preventative Mechanism. The UK has established such a mechanism and finds it to be an effective means for introducing greater transparency into security systems and eliminating the situations in which torture can occur.
Thank you,
Mr President.
Published 22 September 2016