World news story
Human Rights Council 32, Geneva: Interactive Dialogue on Transnational Corporations and Freedom of Expression, 16 June 2016
UK Statement for clustered Interactive Dialogue on Transnational Corporations and Freedom of Expression, Human Rights Council 32, 16 June 2016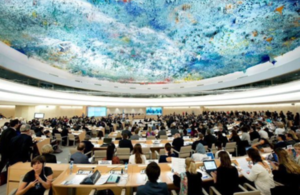 The UK set out our expectation of business respect for human rights in our National Action Plan - the first such plan to be published. We encourage all states to provide similar direction to business and protections for potential victims.

We consider the UN Guiding Principles to be the best method for promoting good business practice and protecting potential victims. Since the UNGPs were agreed, we have invested around £1.8 million in programme funding and will spend over £1million more over the next two years
We welcome the work of OHCHR on accountability and remedy. Adequate remedy and access to justice remain crucial. We support any process which takes sensible, fair and proportionate steps to improve remedy.

States must take the lead in setting out expectations and, where necessary putting in place appropriate legal frameworks - as the UK has done with the Modern Slavery Act. But there is also a role for business and civil society to develop and demonstrate practical measures.

We encourage initiatives to promote transparency, due diligence and corporate benchmarking. We also support the development of guidance aimed at specific business sectors and the evaluation of the impact of large scale sporting events on human rights.

The UK is a strong advocate of Freedom of Expression. Not just for the benefits it has in itself but also as an enabler of other human rights. Freedom of Expression, media freedom and the right to hold and express opinions also drive innovation and therefore support economic growth and strong societies. Yet in too many parts of the world, we are seeing attempts to limit freedom of expression, and restrict the press and civil society. We will continue to advocate freedom of expression, including through organisations such as the Freedom Online Coalition and the Community of Democracies.
Published 17 June 2016