World news story
Human Rights Council 31, UK Statement on Commission of Inquiry on the Syrian Arab Republic, 15 March 2016
UK Statement: Interactive Dialogue with the Commission of Inquiry on the Syrian Arab Republic, 15 March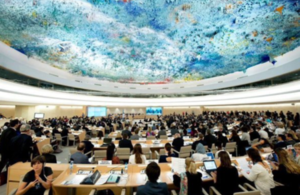 Thank you, Mr President,
The UK would like to thank the Independent Commission of Inquiry for its latest reports which continue to highlight the barbaric and ferocious nature of the Syrian conflict.
We remain fully supportive of the Commission's work to document and bring to the attention of the Human Rights Council the scale of the human rights violations and disregard for international humanitarian law and UNSC resolutions.
The UK would like to stress three issues raised in the reports:
• The indiscriminate and disproportionate aerial bombardments by the Asad regime and its allies. This is the primary cause of civilian casualties and mass displacement within Syria and may constitute war crimes. We hope the cessation of hostilities will end this.
• The regime's systematic torture and ill-treatment of detainees. Thousands of detainees have died due to torture or the inhuman conditions as evidenced by more than 55,000 shocking Caesar images. We support calls for women and children to be released as a priority.
• The UK calls for the immediate lifting of restrictions on humanitarian access by the regime and other actors and the use of siege tactics to starve civilian populations.
We agree whole heartedly with the Commission that those responsible must be held to account and that accountability must form part of any political solution. We support the renewal of the Commission's mandate, call for the CoI to have unhindered access to the Syrian Arab Republic, and for those alleged to be responsible for war-crimes and crimes against humanity in Syria, regardless of affiliation, to be referred to the International Criminal Court.
The UK also supports the work of the UN Special Envoy, Staffan de Mistura, in his efforts to find a political settlement.
What are the CoI's priorities and how can we best support this?
Thank you.
Published 15 March 2016