World news story
Human Rights Council 31, UK Statement following the update by the Special Rapporteur on Human Rights in Eritrea, 14 March 2016
Human Rights Council 31, UK Statement following the update by the Special Rapporteur on Human Rights in Eritrea, 14 March 2016.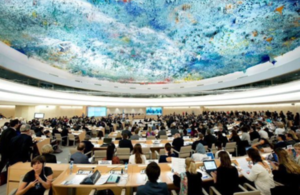 Mr President,
The United Kingdom would like to thank the Special Rapporteur for her work.
The UK shares the concerns highlighted by the Special Rapporteur on the dangers faced by unaccompanied minors when undertaking the hazardous journey to Europe. Through both the EU/AU Khartoum Process and newly formed EU Trust Fund, we are working with African Partners to look at developing projects that will tackle human smuggling and people trafficking from the Horn of Africa.
We welcome Eritrea's renewed engagement with the Office of the High Commissioner for Human Rights and look forward to increased engagement in the future. We welcome especially the opportunity for staff of the OHCHR to visit a place of detention in Eritrea during their recent visit, and hope that Eritrea will strengthen its engagement on human rights with the international community as a whole. The UK remains deeply concerned about the human rights situation inside Eritrea and have made clear we want the government to take concrete action to improve people's human rights, including their political, economic and social rights as these are one of the push factors leading Eritreans to undertake the dangerous journey to Europe.
The UK hopes that the Special Rapporteur has had the opportunity to consult with the Special Rapporteur on cultural rights as well as other UN agenices like UNICEF who work with unaccompanied minors as proposed by the UK following her update to the General Assembly in October 2015; and if she has done so, that she will share the detail of her discussions with the Council?
The UK continues to call on the Government of Eritrea to honour its international human rights obligations, and to cooperate fully with the UN human rights system. The UK continues to encourage the Government of Eritrea to allow the UN Special Rapporteur on Human Rights in Eritrea access to the country.
Thank you Mr President
Published 14 March 2016