World news story
Human Rights Council 31, Geneva: UK Statement on the Rights of the Child, 7 March 2016
UK Statement at the annual full-day meeting on the rights of the child regarding "Information and communication technologies and child sexual exploitation"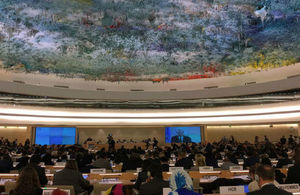 The United Kingdom is firmly committed to tackling child sexual abuse and exploitation in all its forms.
Technology is a powerful and transformative force for growth. We are at a period in history in which the intersection of technology and humanity has the potential to offer opportunities to our children that earlier generations never experienced. But technology is also enabling new forms of crimes against children that need to be tackled with urgency, in a way that is consistent with our aims of maintaining this potential and an open and secure Internet.
The UK has already made significant progress. All UK police forces and the National Crime Agency are now connected to the Child Abuse Image Database which has helped identify many more victims of child abuse than ever before. The UK Prime Minister has pledged £50 million to tackle online abuse - the first £10 million has financed a global UNICEF programme in 17 countries.
However, to tackle online sexual abuse of children, we must work together, and we must act globally. That is why the UK brought together the technology industry, civil society and governments under the WePROTECT initiative. WePROTECT will now merge with the Global Alliance Against Child Sexual Abuse Online to create for the first time a single coordinated global initiative to transform how these crimes are dealt with.
We would like to ask the panel, how best can we ensure a coordinated response by the international community, including by initiatives like WePROTECT?
Thank you, Mr President.
Published 7 March 2016