World news story
Human Rights Council 31, Geneva: UK Statement on Terrorism and Cultural Rights, 10 March 2016
From:

Part of:

Published:

10 March 2016
UK Statement for the Clustered Interactive Dialogue with the Special Rapporteur on Terrorism and the Special Rapporteur in the field of Cultural Rights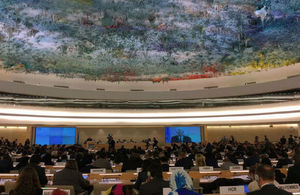 The United Kingdom thanks the Special Rapporteur on Terrorism for his report, and aligns itself with the EU statement.
The atrocities perpetrated by groups such as Daesh and Boko Haram demonstrates that violent extremism constitutes a threat to universal rights.
With our international and civil society partners, we will continue to counter this threat both at home and internationally – not only to protect our peace and security, but to enable universal enjoyment of human rights.
We thank the Special Rapporteur for his recommendations, and his emphasis on the mutually reinforcing relationship between human rights and counter-extremism.
As set out in our pledges for re-election to this Council, the United Kingdom remains committed to promoting and defending freedom of religion or belief; equality and non-discrimination; the rights of women and girls, and the importance of civil society.
These are vital objectives in their own right, but they are also indispensable in tackling the root causes of extremism.
The promotion and protection of these rights makes societies more tolerant and cohesive – and, therefore, more resilient against extremist influences.
We would like to ask the Special Rapporteur firstly how he sees the role of this Council in implementing the UN Secretary General's Plan of Action to Prevent Violent Extremism.
Secondly, what best practice can he share with member states as they seek to develop their own National Action Plans?
The United Kingdom is pleased to address the Special Rapporteur on Cultural Rights and welcomes her report. We agree with the notion, as set out in the Special Rapporteur's report, that the enjoyment and protection of cultural heritage has strong links to human dignity and identity. We echo the Special Rapporteur's calls to ensure accountability for acts of intentional destruction, such as that brought about by Daesh at world famous heritage sites like Palmyra.
We would like to ask the Special Rapporteur how she thinks the international community can support conflict-afflicted states to give equal priority to the safeguarding of cultural heritage in post-conflict scenarios, alongside state building and institutional capacity building measures?
We strongly support the work of the Special Rapporteur and encourage all states to work in a constructive manner to enable her to fulfil her mandate.
Thank you, Mr President.