World news story
Human Rights Council 31, Geneva: UK Statement for the Interactive Dialogue with the Special Rapporteur on the sale of children and the Special Rapporteur on torture, 8 March 2016
From:

Part of:

Published:

8 March 2016
UK Statement for the Interactive Dialogue with the Special Rapporteur on the sale of children and the Special Rapporteur on torture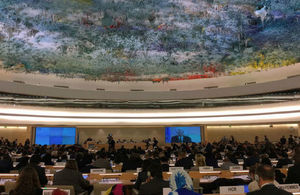 The United Kingdom thanks the Special Rapporteur on the sale of children, child prostitution and child pornography for her report, which focuses on reducing the demand for sexual exploitation of children and on sharing best practices.
The UK is committed to tackling the grave issue of child abuse in all its forms, including sexual abuse, exploitation and trafficking. The Modern Slavery Strategy, the Tackling Child Sexual Exploitation Action Plan, and the Serious Organised Crime Strategy all aim to ensure action is taken to tackle child abuse. The UK's Modern Slavery Act 2015 enhances support for victims and includes measures to ensure that victims are not inappropriately criminalised.
Madam Special Rapporteur, in order to eradicate sexual exploitation of children and to stem the demand, what more can be done to ensure that existing guidelines, such as the Guiding Principles on Business and Human Rights, are universally followed?
The UK would also like to thank the Special Rapporteur on torture for his report, which focuses on the prohibition of torture in relation to the experiences of women, girls, and LGBTI persons.
The UK welcomes the role of the Special Rapporteur in building political will for change where torture remains widespread and in signposting the Optional Protocol to the Convention against Torture (OPCAT) as the best way to establish meaningful torture prevention systems.
The UK's National Preventative Mechanism (NPM) established in line with OPCAT, has produced a report that evaluates the implementation of the Mechanism in the UK during its first five years.
Mr Special Rapporteur, what opportunities do you see to advocate further ratification of the OPCAT and better implementation by those who have already ratified OPCAT?
Thank you, Mr President.