World news story
Human Rights Council, 30th Session: Statement by the United Kingdom of Great Britain and Northern Ireland
From:

Part of:

Published:

1 October 2015
The UK delivers its statement on draft resolution L.29 "Promoting reconciliation, accountability and human rights in Sri Lanka", Geneva, 1 October 2015.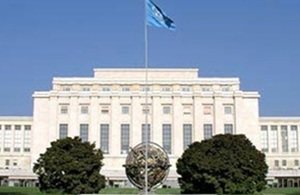 Thank you Mr President
The United Kingdom is pleased to be among the main authors of draft resolution L29 entitled "Promoting Reconciliation, accountability and human rights in Sri Lanka".
While this is the fourth resolution of this Council with this title, it is the first to have received the co-sponsorship of the Government of Sri Lanka. This is a truly historic development for Sri Lanka and for this Council. I wish to express the United Kingdom's sincere appreciation to the Government of Sri Lanka and the Sri Lankan delegation in Geneva for their constructive engagement on the text which has led to the draft resolution we have before us.
I would like to thank other delegations who supported this draft during the negotiation process carried out by the Core Group. And I wish to express my deep appreciation to the High Commissioner and his OISL team who produced such a professional and significant report which has formed the key basis for this resolution.
I also wish to pay special tribute to those in civil society who have worked tirelessly over many years to keep the international community engaged on the promotion of human rights, reconciliation and accountability in Sri Lanka. All of the resolutions on Sri Lanka at this Council from 2012 onwards have been inspired by civil society actors inside and outside Sri Lanka. We simply would not have got to this point without the steadfast determination of courageous human rights defenders working in Sri Lanka often at great personal risk to ensure the voices of victims were heard. This draft is a testament to their achievements.
Mr President
Many difficult challenges lie ahead for Sri Lanka. But we must draw hope and inspiration from the positive changes which have already taken place inside the country and from the clear commitments expressed by the Sri Lankan Government this session. As we move forward, it will be essential to work in partnership with Sri Lanka. We stand ready to give our support as Sri Lanka works to implement this resolution and the wider recommendations in the OISL report. We urge others to join us in doing so.
We look forward to the adoption of L29 by consensus.
Thank you Mr President.
Document information
Published: 1 October 2015