Human Rights Council 20th session concludes
The UN Human Rights Council concluded its 20th Session on Friday 6 July, with a number of landmark resolutions on key countries of concern.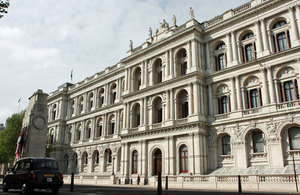 Foreign Office Minister Jeremy Browne said:
"The UK considers it crucial that the Human Rights Council is able to address situations of human rights violations wherever they occur. I welcome the strong action which the Council has once again taken on Syria at this session, and I am also encouraged by the Council's effective response to a range of other critical human rights situations.
"The establishment of a Special Rapporteur on Belarus demonstrates significant support from the international community for much needed independent monitoring of the human rights situation in Belarus. We urge the Government to take this opportunity to cooperate with the UN's human rights mechanisms, including this new Special Rapporteur, and to improve the deteriorating human rights situation on the ground as reported by the Office of the High Commissioner for Human Rights.
"I welcome the adoption by consensus, under the lead of other African countries, of a resolution on Eritrea including the establishment of a new Special Rapporteur. I welcome too Eritrea's stated commitment to dialogue and engagement, and look forward to seeing cooperation with the Special Rapporteur and other Special Procedures of the HRC.
"I am pleased with the extension of the mandates of Independent Experts on Somalia and Cote d'Ivoire, both by consensus, ensuring continued assistance to those countries in improving their human rights records. In Somalia it is now critical that the Transitional Federal Government, and its successor after the August transition, work to implement their human rights commitments, with the support of the Independent Expert. In Cote d'Ivoire, it is important that full and impartial justice is delivered to all those found responsible for crimes and human rights abuses in the post- election crisis, regardless of their political affiliations. There must be no impunity.
"I am also encouraged by the resolution on the human rights situation in Mali - a necessary first statement of concern from the Human Rights Council on the troubling events in that country.
"The UK supported a strong resolution affirming, for the first time, that freedom of expression applies equally online as it does offline. And we also ensured the Human Rights Council paid due attention to the rights of women, their equal participation in times of political transition, and sexual violence in conflict and post conflict situations.
"We will continue to work with our international partners on these and other issues, to support the work of the Council and to ensure that this body responds appropriately to all violations of human rights wherever they occur."
Published 6 July 2012