World news story
Human Rights Council: 18th Session of the Universal Periodic Review Working Group, Geneva, 27 January to 7 February 2014
Statement by the UK Mission Geneva on the Universal Periodic Review of Vanuatu, 30 January 2014.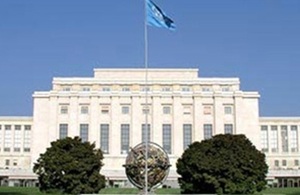 We commend Vanuatu for the significant progress in achieving the International Conference on Population and Development targets and Millennium Development Goals through implementation of the country's Priority Action Agenda. We also commend Vanuatu for raising the question of gender and climate change at COP 19 in Warsaw in November 2013.
We commend Vanuatu for ratification of several of the UN's Human Rights Conventions treaties. In particular, we recognise that you are the first Pacific Island Nation to accede to the UN Convention Against Torture. We would like to ask the delegation whether the Government intends to become party to any of the other UN human rights treaties such as the International Covenant on Economic, Social and Cultural Rights.
We are concerned by the exclusion of disability as a prohibited ground for discrimination. Can the delegation provide any information on recent initiatives to address discrimination against persons with disabilities?.
While the UK commends efforts taken to date to encourage more women in leadership roles, we urge the Government to continue work to prevent violence against women.
We would like to make two recommendations:
First – we recommend that the Government of Vanuatu ratify the Optional Protocol to the Convention against Torture
Second – We recommend that Vanuatu implements its legislation to prevent violence against women and that it adopts a strategy to properly tackle the unequal status of women.
Thank you.
Published 6 February 2014