News story
Human Rights and Democracy Report 2012 - Pakistan
The picture in Pakistan remains complex. There have been some positive political and legal developments.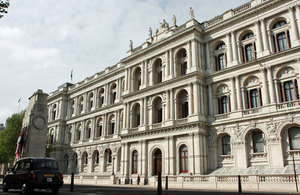 Human Rights and Democracy Report 2012 - Pakistan
The picture in Pakistan remains complex. There have been some positive political and legal developments, but there remain also acute human rights challenges in a very difficult security environment. The state carried out the first execution in four years in November and there continue to be reports of mistreatment and extrajudicial killings by the security forces with impunity. The past year has seen significant terrorist and sectarian violence and continuing persecution of religious and ethnic minorities. The government of Pakistan has made some progress, continuing the legislative successes of 2011, by passing bills to create a new National Commission for Human Rights and to protect women from violence, but it needs to go further to ensure that these meet international standards, and it will also be judged on how well it implements the legislation. The National Commission was still not up and running six months after the bill establishing it was passed. This year, Pakistan was elected to the UN Human Rights Council and went through its second Universal Periodic Review. The international community will be monitoring its response to the recommendations.
In last year's report, we identified several human rights objectives for 2012: freedom of expression and religion, implementation of international treaties, democracy and elections and promotion of the rule of law, child and maternal health and women's rights. We took these forward through a range of projects and targeted dialogue with the Pakistani authorities. Success was mixed, but the government responded on some legislative issues and FCO and UK aid projects have had a positive impact.
Elections in 2013 will be a vital step on the path to a strong, stable and democratic Pakistan. Helping Pakistan to deliver elections which are credible and that lead to a peaceful transfer of power will be a top priority for the UK in 2013. We will also encourage Pakistan, and its new government, to step up its implementation of international obligations on human rights. Essential changes will only happen with the political support of the authorities. We will continue to focus on the rights of minorities and women, through frank senior-level discussions and project work.
Further Information:
Read and comment in English onHuman Rights and Democracy Report 2012 - Pakistan
Read and comment in English - Full reportHuman Rights and Democracy Report 2012
Published 15 April 2013