Human Rights and Democracy Report
Foreign Secretary William Hague will launch Human Rights and Democracy: The 2010 Foreign & Commonwealth Report today (31 March 2011).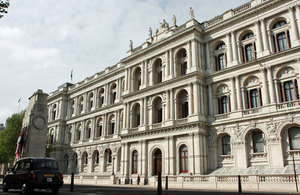 The report is a comprehensive look at the human rights work of the Foreign & Commonwealth Office (FCO) around the world in 2010. It highlights the UK's human rights concerns in key countries and is a further concrete demonstration of the Foreign Secretary's commitment to strengthening the FCO's work on human rights at home and overseas.
The report is more comprehensive than previous years, is being hosted online to make it much more accessible to the public and the website will include updates every three months to highlight key human rights events and actions that take place in each of the featured countries of concern. The update for the first three months of 2011 will also be published online today. People will be able to comment on the report and read, share and host the sections of the report that interest them.
The Foreign Secretary will launch the report at an event beginning at 10.30 at the Foreign & Commonwealth Office. He will make a keynote speech to an audience of parliamentarians, NGOs, local ambassadors, civil society and the media. Other guest speakers will include Dr Agnes Callamard, Executive Director of Article 19 and Maziar Bahari, Iranian-Canadian journalist, playwright and film maker.
The report will be laid before Parliament in a command paper and published online (it will be available at www.fco.gov.uk/hrdreport).
Published 31 March 2011