World news story
HUMAN RIGHTS AND DEMOCRACY PROGRAMME: LAUNCH OF 2016-17 BIDDING
The bidding round for prospective projects for the Human Rights and Democracy Programme 2016-17 is now open.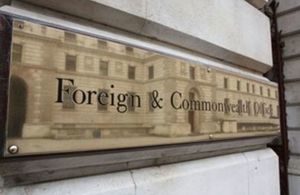 We are now asking for implementers to complete concept notes. All concept notes are due February 5th 2016 and we will inform all implementers of the outcome of their application in due course. Concept notes that are selected will be asked to complete a full proposal by 04 March. Successful projects will be expected to commence in April 2016, and be completed by 28 February 2017.
The HRDP is the FCO's dedicated strategic programme fund supporting our global human rights and democracy work. Through targeted projects, it aims to further British interests overseas by supporting the promotion and protection of human rights, democracy and the rule of law. The new HRDP strategy is shaped around our three new themes for human rights and democracy work: democratic values and the rule of law, the rules-based international order, and human rights for a stable world. Within those pillars we have 3 thematic priorities for Sudan.
Priority thematic areas in Sudan • Rule of Law • Corruption • Space for Civil Society Priority Geographic areas In Sudan • Blue Nile • South Kordofan Selection criteria Project concept notes must clearly demonstrate how they will support the FCO's strategy in at least one of the eight thematic priorities of the Human Rights and Democracy Programme, and must also align with the thematic priorities for Sudan. Please see HRDP Programme Strategy document and HRDP Bidding Guidance for more information.
Bids will be assessed against the following criteria: • value for money • alignment with HRDP Strategy and FCO's Foreign Policy Priorities • evidence of local demand or need • project viability, including capacity of implementing organisation(s) • project design, including clear, achievable impact • risk and stakeholder management • sustainability Please send completed concept notes to polly.steele@fco.gsi.gov.uk by February 5th 2016.
Warm regards
Published 21 January 2016