Huhne: More teeth for Ofgem, more rights for energy consumers
Energy Secretary The Rt Hon Chris Huhne MP today put forward key measures to give energy consumers more protection and beef up the powers of…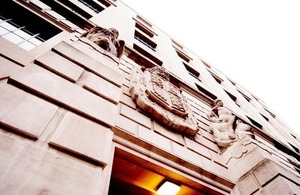 Energy Secretary The Rt Hon Chris Huhne MP today put forward key measures to give energy consumers more protection and beef up the powers of energy regulator Ofgem, with implementation of the EU Third Package on energy and additional work on consumer redress and collective energy purchasing:
Companies will no longer be able to block action by energy regulator Ofgem by forcing it to seek a second opinion from the Competition Commission - a process that can take a year. Instead Ofgem will be able to go ahead with its decisions and there will be a right of appeal that will also be open to small energy companies and Consumer Focus (or its successor body). This change is due to come into force by the end of the year, subject to Parliamentary approval of regulations implementing the EU Third Energy Package.
The Government is also considering giving Ofgem new powers to require energy companies to provide consumer redress when consumers have lost out as a result of a company breaching a licence condition. Redress would include refunding customers directly or requiring the company to pay into funds that benefit consumers. This would be in addition to Ofgem's current powers to fine companies up to 10% of their annual turnover, and would be unlimited.
Energy Secretary The Rt Hon Chris Huhne MP is calling on Ofgem to assess whether competition is being hindered by some energy companies that have high energy prices for millions of their consumers and yet offer much cheaper online deals that make it difficult for small suppliers to compete.
Customers who wish to change energy supplier will have the right to be switched within three weeks once their cooling-off period has elapsed. Energy suppliers will be under a new obligation to speed up their switching processes. Ofgem will oversee this process. New rules will also mean that energy suppliers will have to give customers guidance, known as the 'Consumer Checklist', which the Government has asked consumer watchdog Consumer Focus to compile and update. This will tell customers what their rights are and help them understand what they should expect from their energy supplier. These measures also form part of implementation of the EU Third Energy Package.
The Government and energy suppliers have agreed in principle to ensure consumers know if their supplier has cheaper tariffs. Suppliers have agreed in principle to signpost consumers to cheaper deals information this winter, and we intend that by next year more bespoke information will be displayed on the bill itself.
A working group on collective purchasing and switching in energy will be established to examine the potential for collective purchasing and switching in the energy market and review any barriers to helping consumers come together and get a better deal.
In addition, the Secretary of State has announced that up to £35 million has been earmarked for innovations to drive down the costs of saving energy and reducing carbon emissions in homes and businesses. The Spending Review of November 2010 announced funding of over £200 million for low carbon technologies over four financial years, from April 2011. The includes up to £60 million for the development of offshore wind manufacturing at port sites. The remaining Capital funding will support innovation in low carbon technologies and systems.
Up to £30m of that budget has been earmarked for an innovation programme to reduce the costs of off-shore wind and up to £20m for a programme of support for marine energy. A further allocation of up £35m has now been earmarked to support the development and demonstration of innovative technologies and systems that can reduce carbon emissions from buildings. This funding will help drive down the costs of saving and generating energy in domestic and non-domestic buildings and increase the number of properties that can benefit from savings on their energy bills. Commitment of the earmarked funding remains subject to further value for money assessments. These programmes will be further developed, in consultation with industry and developers, over the coming months and more details will be announced before the end of this financial year.
Details of the allocation of the remaining budget to support innovation in other low carbon technologies will follow later in the year.
The new Energy Efficiency Deployment Office will be established within DECC to provide a wider energy efficiency strategy based on evidence and analysis, strong programme management and a joined-up view of the offer to the customer. Establishment of the Office, with its own chairman and director, follows the model in DECC for renewable energy deployment, carbon capture and storage, and nuclear development, and reflects the priority the Government places on energy efficiency in delivering its energy and climate change policies.
---
Notes to editors
On 12 July 2011 The Rt Hon Chris Huhne MP published a White Paper on Electricity Market Reform, a critical moment in keeping the lights on, consumer bills down and shifting the UK economy away from a high risk, high carbon future.

DECC Ministers have also taken a number of other recent steps aimed at ensuring consumers get a better deal:
Published 20 September 2011