News story
Huhne extends North Sea environmental inspection improvements
The Energy Secretary ahead of his visit to Scotland on Wednesday announced that he is boosting the number of offshore environmental oil and …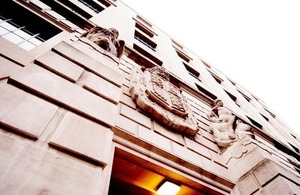 The Energy Secretary ahead of his visit to Scotland on Wednesday announced that he is boosting the number of offshore environmental oil and gas inspectors. This will enable the number of offshore inspections undertaken each year to increase from 60, the number before the Gulf of Mexico spill, to 150.
The increase in staff will allow annual environmental inspections of all manned fixed installations and about 24 drilling rigs every year, as a minimum. It will also allow for inspections of deepwater and more complex projects to be made by two rather than one inspector.
Initial inspection improvements were made in June soon after the Macondo disaster in the Gulf of Mexico.
Energy Secretary The Rt Hon Chris Huhne MP said:
"The UK's safety and environmental regime is one of the most robust in the world. But we are not complacent and more environmental inspections should provide further assurance that Government and industry are alert and working hard to ensure that a spill like Macondo doesn't happen in UK waters.
"We will be publishing a full review into the UK's regime once we have fully examined the findings of the US Presidential Commission reports and detailed analysis of the factors which caused the Macondo spill."
The changes being announced today will mean:
inspections at least once a year of all manned oil and gas fixed production installations and an increase of inspections at drilling rigs to about 24 drilling a year;
150 yearly offshore environmental inspections, which compares to 80 yearly inspections after our reforms in June and 60 yearly inspections before this;
inspections on all deepwater and complex projects by two inspectors; and
the recruitment of 15 new members of staff for DECC's Offshore Environmental Unit.
The increased staffing costs will be recouped through fees charged to the industry.
DECC's environmental inspections of oil and gas installations are undertaken in addition to safety inspections carried out by the Health and Safety Executive.
The comprehensive review into the UK's oil & gas offshore regime will begin once the findings of the US Presidential Commission report have been thoroughly analysed. The review will be led by DECC, with the collaboration of the Health and Safety Executive, the Maritime and Coastguard Agency and the involvement of independent experts and will be based on the life cycle of an offshore development. The review will report later this year once the US Maritime Board Investigation Report has been published, currently scheduled for March 2011, and been analysed.
---
Notes to editors
The requirement for dual inspections is one of the recommendationsfrom the US Report to the Secretary of the Interior Ken Salazar in September 2010.
Published 11 January 2011