News story
Hugo Swire concerned by imprisonment of Malaysian opposition leader
Minister for Asia, Hugo Swire, responds to the Malaysian Federal Court's decision to dismiss Anwar Ibrahim's final appeal against a charge of sodomy.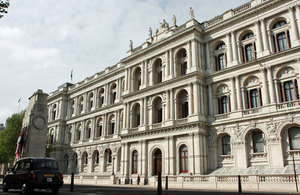 Hugo Swire, said:
I am deeply concerned by the imprisonment of Malaysia's opposition leader Anwar Ibrahim.

His case raises worrying questions about the independence of the judiciary and rule of law in Malaysia. As such, we have consistently raised our concerns with the Malaysian government.

Malaysia is an important partner and friend to the UK. We continue to believe that the integrity of the rule of law is a key part of its success, as are the values of moderation and tolerance. We encourage Malaysia to recognise the importance of international confidence in its judicial system and to restore trust in its commitment to human rights.
Further information
Follow Foreign Minister Hugo Swire on twitter @HugoSwire Follow the Foreign Office on twitter @foreignoffice Follow the Foreign Office on Facebook and Google+
Published 10 February 2015