Huge support for Sainsbury's School Games competition
Starting gun fired on race to finals on Olympic Park.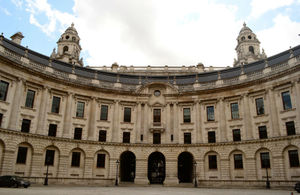 Around 12,000 schools up and down the country will compete in the new Sainsbury's School Games competition, Secretary of State for Culture, Olympics, Media and Sport Jeremy Hunt announced today.
Mr Hunt also revealed that tickets for the finals on the Olympic Park are set to "sell out," with more than two-thirds of the 30,000 tickets being snapped up within days of going on Ticketmaster. Gold medallists from the 393 School Games final events will also receive an Olympic or Paralympic ticket to celebrate their success.
The School Games finals will have their own opening and closing ceremonies and Mr Hunt said today that plans are well underway to make the closing ceremony a 'grand finale'. Up to 8 thousand young people, their families and guests will watch a huge celebration in the Basketball Arena on 9 May.
The new School Games competition, which is supported by a £10 million funding package from Sainsbury's and more than £152 million of Lottery and government investment, is helping to rejuvenate competitive sport in schools.  More than a hundred thousand children across the country will take part in the competition which features 31 sports including current and future Olympic and Paralympic sports.  Around 1,600 elite young people will compete in the first finals in twelve of the sports - to be held in iconic Olympic venues - in May.
Mr Hunt said:
"It's fantastic to have half the schools in England signed up to the School Games in the competition's first year. Not only that, but over 80 per cent of tickets for the final have been snapped up in the first week. All the sceptics who said this project wouldn't take off have been proved wrong - schools are as sport mad as the rest of the country this year."
Sport England Chief Executive, Jennie Price, said: 
"The Sainsbury's School Games final will be a wonderful celebration of youth sport and a fantastic chance for young people to compete in the amazing London 2012 venues ahead of their sporting heroes.  Together with our new youth and community sport strategy, the School Games will ensure we deliver a lasting legacy beyond this year's Games. 
Baroness Sue Campbell, chair of the Youth Sport Trust, said:
"It is fantastic to see that excitement is continuing to build for the Sainsbury's 2012 School Games.  With thousands of spectators and 1,600 of the very best young athletes competing in the Olympic Park in May we are set for a very special year for school sport."
The Sainsbury's School Games complements the Government's new youth sport strategy.  Together, they will get more young people playing sport and deliver a real sporting legacy from the 2012 Games.
Notes to editors
The Sainsbury's School Games is a new school sport competition, using the inspiration of London's Olympics and Paralympics to help transform competitive sport in schools and get more young people playing sport. The Youth Sport Trust has been commissioned to deliver the competition by Sport England on behalf of the Government. Open to all schools, there are three levels of competition (class versus class, school versus school and then county or city wide sports festivals) leading up to the showcase final. Further information about the school games can be found at http://www.yourschoolgames.com/ and at http://www.culture.gov.uk/.

The finals will be held on the Olympic Park between 6 and 9 May.

30,000 schools tickets for the event will be available free of charge- giving young people from across the country the opportunity to be inspired by both Olympic and Paralympic facilities.

24,000 tickets (as of 10.25am on Friday 3rd Feb) have already been allocated since they were released on 25th January. To access tickets, schools needs to register for the School Games at http://www.yourschoolgames.com/

Open to all schools, there are three levels of competition (class versus class, school versus school and then county or city wide sports festivals) leading up to the showcase final on the Olympic Park.

The School Games will continue after 2012 and the ambition is for the finals to be held in the Olympic Park at regular intervals. Schools had until the end of January to sign up for the first year of the competition. 

The sports included in the competition are: athletics, badminton, cycling, fencing, gymnastics, hockey, judo, rugby sevens, swimming, table tennis, volleyball and wheelchair basketball.

Sainsbury's pledged a £10 million package to support the new School Games over the next four years; this was announced by DCMS on 10 January 2012.

A new £1 billion youth sport strategy to deliver on 2012 Games promise to inspire a generation to get involved in sport was announced by DCMS on 10 January 2012.

A total of 11,953 schools have signed up.  See the School Games factsheet and map showing the regional breakdown of schools taking part (PDF, 416kb)
Press Enquiries: 020 7211 2210
Out of hours telephone pager no: 07699 751153
Public Enquiries: 020 7211 6000
Published 6 February 2012