Press release
HS2 launches Birmingham recruitment drive
HS2 Ltd launches recruitment drive for more than 100 specialist jobs to be based in Birmingham.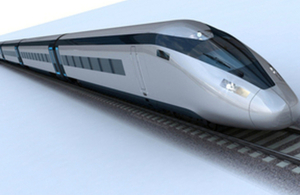 HS2 Ltd, the company responsible for the design, engineering and construction of Britain's new high speed rail network today announced the start of a recruitment drive for more than 100 specialist jobs, to be based in Birmingham, at the heart of the HS2 network.
The new jobs include opportunities in civil, rail and site engineering, project management, corporate procurement, contract and commercial management, health and safety, accountancy, HR, IT and legal specialists.
This month HS2 Ltd is holding its first two day Careers Fair in the centre of Birmingham, where delegates will have the chance to find out more about the project and discuss the wide range of opportunities available with staff currently working on the project.
HS2 Ltd Chief Executive, Simon Kirby said:
The arrival of HS2 in Birmingham will play a vital role in boosting jobs, skills, economic growth and regeneration across the city and the West Midlands.
HS2 will demand a wide range of skills across a broad range of areas, as the project develops from planning and design through to construction.
Getting the right people with the right skills and experience is vital to HS2's success which is why we are recruiting now for a wide variety of specialist roles based in Birmingham, at the heart of the HS2 network.
We would like to attract the best talent from across the country to work on HS2, Britain's largest infrastructure project, and to encourage greater diversity among those entering a career in engineering, construction and the built environment.
Lord Ahmad, Parliamentary Under Secretary of State for Transport, said:
HS2 will have a transformational effect, supporting growth across the country by improving connectivity and freeing up space on our crowded rail network. The start of this recruitment drive is a fantastic opportunity for people in Birmingham and the rest of the country to become part of delivering this vital railway. It also shows how HS2 is already starting to create jobs across the UK, helping to rebalance our economy.
Sir Albert Bore, leader of Birmingham City Council, said:
With some of the UK's leading universities located in Birmingham and one of the youngest populations in Europe, this region has a vast and ambitious talent pool with expertise ranging from engineering and manufacturing to professional and financial services. This careers fair is one of the first opportunities for that talent pool to get involved with this country's biggest infrastructure project in years.
Councillor Ian Courts, Deputy Leader of Solihull Council and Cabinet Member for Managed Growth said:
This is a first-class opportunity for Solihull people to get high quality jobs and be part of one of Britain's largest civil engineering schemes. Solihull is determined to maximise the economic potential of HS2, both during its construction and when it's running. This is one of the early opportunities for local jobs and I hope people from the borough will embrace these opportunities.
For more information regarding the Careers Fair please go to:
Press and media enquiries
For enquiries during office working hours, Monday to Friday, 9am to 5pm 020 7944 6149
For enquiries outside of these hours and at the weekend 020 7944 0550
The press and media enquiries line is for accredited journalists only
Published 10 September 2015