Press release
HS2 honours its word to Camden social rent housing residents
The Department for Transport (DfT) has today signed a deal that will set out a process to enable the rehousing of those social rented housing tenants displaced by redevelopment of Euston.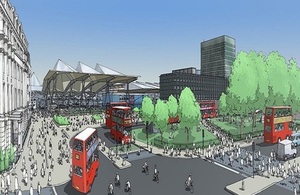 The agreement will facilitate the building of new homes including 66 social rented housing units.
Welcoming the deal, HS2 Ltd's Chief Executive, Simon Kirby, said:
This agreement demonstrates the momentum behind High Speed Two and underlines HS2 Ltd and the DfTs' commitment to honour their pledge to social rented tenants affected by Euston's redevelopment.
Agreement on these 66 properties completes negotiations to replace all 136 social rented properties in Camden affected by HS2, subject to planning permission being received. It follows a deal in August 2014 between the DfT and the London Borough of Camden to replace 70 homes that will make way for HS2.
The deal signed today is worth up to £47.05million.
Press and media enquiries
For enquiries during office working hours, Monday to Friday, 9am to 5pm 020 7944 6149
For enquiries outside of these hours and at the weekend 020 7944 0550
The press and media enquiries line is for accredited journalists only
Published 18 March 2015