News story
HS2 ground investigation surveys event 23 January 2017: Kilburn
We would like to invite you to an information event about HS2 ground investigation surveys in your area.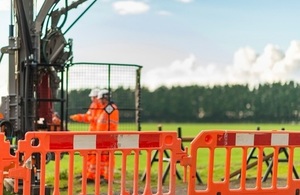 HS2 is the planned new high speed railway. From late January to April 2017, ground investigation surveys will be taking place near you, along the planned route of the railway.
This will help us understand the ground conditions so we can design the railway well, and make sure any future construction is safe and efficient. After the surveys, the area will be restored to its previous condition.
We are holding an information event so you can find out more about the surveys, and what they mean for you. At the event, you can:
Talk to our experts
See maps and plans of the project near you
Ask questions and explore the proposals in more detail
Find out more in our non-technical guide to ground investigations.
Date:
Monday 23 January 2017
Time:
3pm to 7pm
Location:
South Kilburn Studios
2a Canterbury Road
NW6 5SW

View this location on a map
For further information on this event, please contact the HS2 helpdesk:
HS2 helpdesk
High Speed Two (HS2) Ltd
Two Snowhill
Snow Hill Queensway
Birmingham
B4 6GA
The helpdesk team are unable to transfer calls internally to HS2 Ltd members of staff.
Published 12 January 2017