World news story
HRH The Princess Royal to visit Russia for Arctic Convoy anniversary
HRH The Princess Royal will visit Russia in August for commemorations to mark the 75th anniversary of the first Arctic Convoys. The Convoys supported the USSR, Britain's Second World War ally, and played a critical role in securing victory over Nazism.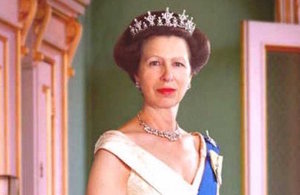 The Princess Royal will represent HM The Queen at commemorative events on 30-31 August in Arkhangelsk and will be accompanied by her husband Vice Admiral Sir Tim Laurence.
The British Ambassador to Russia, Laurie Bristow said:
HRH The Princess Royal, together with a group of British veterans, will attend the commemorations of the Arctic Convoys in Arkhangelsk. We are there to honour those who kept open this lifeline to our allies during the Second World War, and especially to remember the three thousand British and Allied service people who lost their lives. The Arctic Convoys played a critical role in securing victory in WWII. This year marks the 75th anniversary of their first mission in 1941. Together with Russia, and our other wartime allies, we honour those who gave their lives in the struggle against Nazism.
The first of the Arctic Convoys, codenamed 'Dervish', arrived in Arkhangelsk, Russia on 31 August 1941. Running the blockade by the German Navy and avoiding perils such as mines and U-boats the convoys were essential to the supply of the Soviet Union and played a part in supplying Leningrad (present day St Petersburg) during the siege.
Between August 1941 and May 1945, around 1,400 merchant vessels escorted by ships of the Royal Navy, Royal Canadian Navy and US Navy made the journey. 85 merchant vessels and 16 Royal Navy ships were lost during the convoys and over 3,000 British servicemen and their allies died. To this day the UK and Russia continue to honour the sacrifice of Royal Navy sailors and merchant seamen, including through the UK's Arctic Star medal. Arctic Convoy veterans and The Band of HM Royal Marines will also participate in the commemorations.
Published 26 August 2016