World news story
HRH The Prince of Wales participates in Interfaith dialogue
On Thursday 20th February, HRH The Prince of Wales participated in an interfaith dialogue discussion as part of his visit to Doha.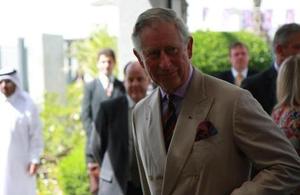 The meeting was attended by key Christian and Muslim clergy and scholars.
Professor Al-Naimi (Chairman of Doha International Centre for Interfaith Dialogue) who chaired the discussion, said "We talked about religion and conflict in the Middle East and the role religious leaders can play in averting violent conflict. Prince Charles is especially sympathetic to victims of any faith displaced from their homes due to violence, and he wants to advocate for support from around the world to end the conflict in Syria. The Middle East holds great significance for all the Abrahamic faiths, and it's an area its inhabitants have to protect and where they need to live in harmony together."
Father Joseph Forbes the Orthodox Patriarch of Great Britain and Theatera said "As one of the most outspoken international leaders in this region, Prince Charles is someone who has advocated building bridges between Islam and Christianity. No one is better placed to encourage interfaith dialogue in the region.
The British Ambassador, Nicholas Hopton said "I'm delighted Prince Charles was able to participate in this thought provoking discussion. He has a deep commitment to promoting religious tolerance and to the defence of all faiths, in all areas of the world."
Published 24 February 2014