World news story
HRH The Duke of Cambridge to visit Japan - Focus on cultural exchange and creative partnerships
HRH The Duke of Cambridge will visit Japan from February 26 to March 1 and China from March 1 to March 4 to undertake a series of engagements on behalf of Her Majesty's Government.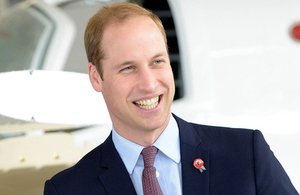 This will be The Duke's first visit to both countries and he will spend approximately three days in each. Key engagements will support initiatives around the Government's GREAT campaign, aimed at building British prosperity through innovation and creative business partnerships.
In Japan, the Duke's visit blends tradition and heritage with a focus on the future. He will launch an Innovation is GREAT campaign and public exhibition in Tokyo, see some of the Tokyo 2020 Olympic sites and take ceremonial tea with a tea Grand Master.
He will also visit the northeast region of the country devastated by a magnitude 9 earthquake and tsunami nearly four years ago. In Ishinomaki and Onagawa, The Duke will spend a morning meeting local people who were affected by the tsunami and hear how communities are rebuilding their lives and businesses with a strong sense of hope.
Please follow British Embassy Tokyo on Twitter and Facebook for latest news on the Duke of Cambridge's first visit to Japan.
Related link:
Published 20 February 2015