World news story
HRC32: Women's Rights Side Event: 'The Power of Empowered Women 2016' Geneva 16 June 2016
From:

Part of:

Published:

16 June 2016
Opening Speech by Baroness Anelay, Minister of State for the Foreign and Commonwealth Office.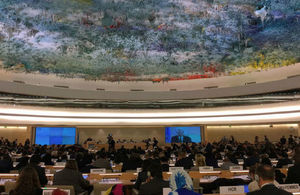 Your Excellencies, Ladies, Gentlemen, and women everywhere. Welcome. I would like to thank the Group of Women Ambassadors to the UN in Geneva, the Geneva Gender Champions, and Barbershop for organising this event. Engaging men and boys in gender equality is crucial in moving the debate forward and tackling negative perceptions.
The empowerment of women matters, and it matters too much to be left to chance.
So I am delighted to see so many of you gathered here today to make personal commitments to promote that empowerment.
I am particularly pleased to see so many representatives from businesses. Economic empowerment goes right to the heart of women's rights. It allows women the opportunity to support themselves and their families, and contributes to tackling poverty and building global prosperity.
The strongest, safest and most prosperous societies are those in which women are able to participate fully. Together we can bring about real change for women.
2016 is an important year. A chance for us all to push forward the 'gender agenda', and this session of the Council is crucial to showing that delivery is on track.
In 2015 the international community placed the rights of women and girls firmly at the front of our collective consciousness. We saw both the twentieth anniversary of the Beijing Platform for Action and the inclusion of a standalone goal on gender in the Sustainable Development Goals.
These were important first steps in promoting and protecting women's rights around the world. The bigger challenge is turning these commitments on paper into a reality that delivers real change for women around the world.
We must make a start now. We will rightly be judged on what we deliver for women at this session of the Council, and in the weeks and months to come.
I welcome the focus of this session on women and girls, and particularly the commitment to combat violence. The Council must continue to show leadership on this issue, and we must all commit to work tirelessly, to change the dangerous daily realities experienced by many women and girls.
There is more to be done to ensure that women's voices are heard. That they are empowered to participate on an equal basis with men. That they are protected from the worst human rights abuses.
You have just seen one theatre piece on the subject of 'breaking the silence' around sexual and gender-based violence, and before we see more, I would like to say a few words specifically on the importance of tackling sexual violence in conflict.
This issue remains one of the United Kingdom's top priorities. We all must - and can - do more to tackle sexual violence against women and girls, and challenge negative attitudes towards survivors. We must break the silence on sexual violence and end the stigma which many survivors face.
We must protect and support the victims of sexual violence in conflict. We must ensure that security forces everywhere are trained to prevent abuse from happening, and be ready to hold perpetrators to account when it does. We must work to end the negative attitudes and stigma attached to victims, which hinder their ability to rebuild their lives.
Tackling sexual violence is an important step in empowering women.
We often hear the words 'voice, choice and control' used in discussions about women's equality. When it comes to making a personal commitment on women's empowerment this is where I would like to start.
As a parliamentarian I understand the need to hear women's voices where decisions are being made that affect us all. With lifelong involvement in grass-roots advocacy and civil society, I have seen firsthand what happens when women are denied that voice.
As a former teacher I know the difference that choice can make to girls. Genuine choice over their future: whether to continue in education, what job to take, whether to start a family. Having the opportunities to make these choices really matters.
In my role as the Prime Minister's Special Representative for Preventing Sexual Violence in Conflict, I have seen first-hand the importance of women having full control over their bodies and their lives. Being free from violence and the fear of violence. Having control over when and if to get married. Understanding that FGM is abuse and not a rite of passage.
The commitment that I make today is to strive for a world where every woman and girl has genuine 'voice, choice and control'. A world where women are empowered to participate equally with men, to make and influence the decisions which affect their families, their societies and themselves.
Please join me in making this commitment a reality.
I hope that today's event demonstrates our commitment to working together to confront the conditions and attitudes which can combine to disempower and exclude women.
I am proud that the United Kingdom has firmly placed the promotion and protection of women's rights at the forefront of their human rights work. We will continue to play a leading role on this issue, and it is a prominent feature of our campaign for re-election to the Council.
I hope that the next Secretary General will engage on gender equality from day one of her or his tenure. And I say 'her' with particular enthusiasm: I am delighted that there is such a large number of well-qualified female candidates for the role of Secretary General. I look forward to hearing more about what the candidates have to say on gender equality during today's event.