Soldier receives medal after work with Afghan women
A Private who worked to bridge the gap between ISAF troops and Afghan women in Helmand has received her Afghanistan campaign medal.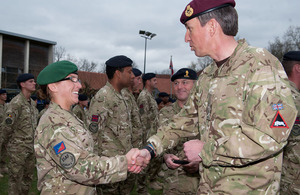 The Private, deployed to Afghanistan with 35 Engineer Regiment as part of one of the Army's Female Engagement Teams, which have been developed to enable the military to better engage with the Afghan people, particularly women and their families.
In some parts of the country, Afghan women are rarely seen by, or communicate with, people outside their immediate family; particularly if they are male. As a result, male International Security Assistance Force (ISAF) troops are unable to freely communicate with an important part of Helmand's population and, therefore, may not be able to obtain a full understanding of the many issues and concerns of communities. The Female Engagement Teams, by virtue of being female, have the potential to bridge this divide.
The Private took up the chance to deploy on an operational tour and undertake a role living and patrolling in forward areas with the infantry, and learning Pashtu in order to engage directly with Afghan families in their homes.
Speaking at a special ceremony, where she was presented with her medal by Major General James Bashall, General Officer Commanding of Germany-based 1 (UK) Armoured Division, the Private said:
It was a fantastic tour. I picked up Pashtu easily. We worked in teams of three and our role meant that we sometimes made bread and jewellery with the women, getting a better idea of their day-to-day lives and how we could help. I learned a lot about their culture. Our main role was to find out about the lives and customs of the families.
"As women we were able to access inside the compounds - to speak to women and their children to find out what they need and to learn who the local village elders or local clerics are. They told us what they want their government to do to improve their lives and we gained a rapport with them - building bridges with families to give ISAF and the Army a human face."
We were living out of checkpoints, in tough conditions, operating out of Nad 'Ali.

It was very interesting meeting the women and understanding the Afghan way of life. They are a very welcoming people; it is in their nature to be hospitable and very friendly. They want security and education for their children, there is plenty of ambition - some of their children want to be doctors and engineers even though their families have always been farmers.

It was an interesting tour and very different to my normal role.

Receiving my medal was a very proud moment," she concluded.
Published 13 April 2012