HQ staff in Helmand run half-marathon for charity
Service personnel based at Headquarters Task Force Helmand (HQ TFH) in Lashkar Gah have taken part in a half-marathon relay race around their small base.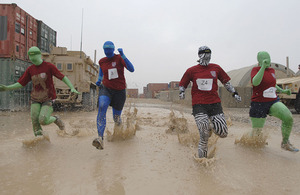 Those involved included members of HQ TFH, the Helmand Provincial Reconstruction Team, the United States Marines Corps and the Afghan National Security Forces.
HQ TFH is formed predominantly of members of the Colchester-based 16 Air Assault Brigade. Its role is to provide co-ordination and assistance for the deployed units throughout the TFH area of operations in Helmand province.
As such, it is a busy place to be, and the staff work hard to ensure that the regiments and battalions in the brigade are fully supported throughout all of their operations.
Therefore, when an opportunity comes to enjoy themselves, the staff take it with both hands!
The race was run in teams of four with each individual running two laps of the base before handing over to the next runner. This was carried out three times, with each person running over three miles (five kilometres) in total.
Each team paid a small entry fee that was donated to Help for Heroes. Prolog, a private company responsible for infrastructure with a base in Lashkar Gah, donated T-shirts for all runners and the local NAAFI (Navy, Army and Air Force Institutes) donated prizes.
The event was won by a team from 216 (Parachute) Signal Squadron in a time of one hour, nine minutes and 20 seconds. Corporal Sean O'Connor, a member of the winning team, said: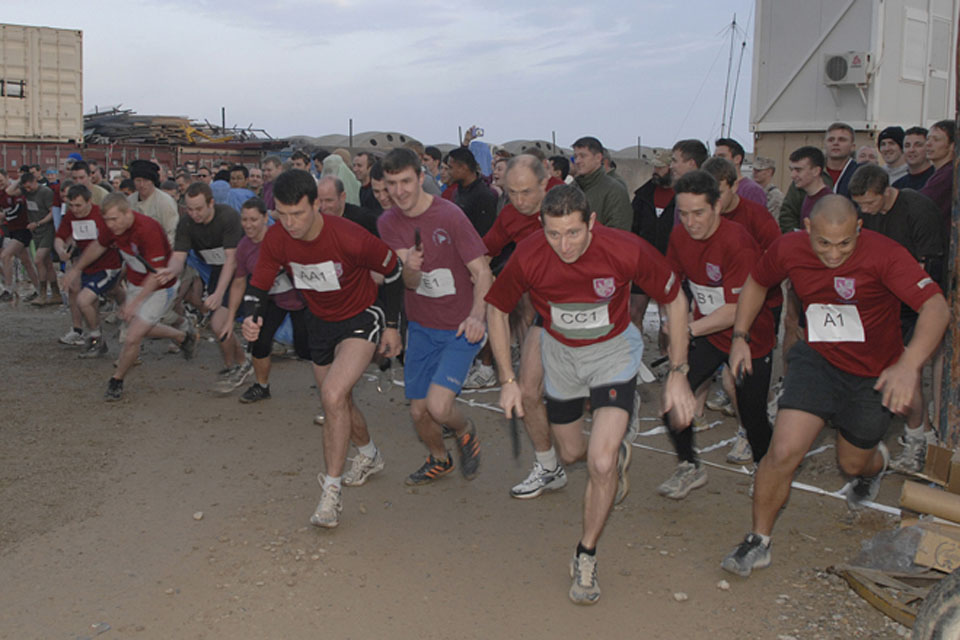 "The Lashkar Gah half-marathon was a really enjoyable event in aid of Help for Heroes. The run itself was quite tricky to gauge as it was just over a mile, and trying to pace it was hard as there was a lot of good competition.

I enjoyed the race as it was well organised and was run in good spirits. An added bonus to helping to raise money for Help for Heroes was that we won the event. Overall we had a great morning.
One of the race organisers was Lieutenant Ross Arnold from 216 (Parachute) Signal Squadron, who had planned the race earlier in the tour, he said:
The event was organised back in December with the idea that it would be glorious summer sun by March and a great way to finish the tour. Needless to say it was performed in true British weather - fog and mud puddles!
We chose to do a half-marathon as the base is pretty tight for space and it also inspired a bit of departmental rivalry. The T-shirts were donated by Prolog and the prizes were kindly donated by the NAAFI. The grand sum of $2,000 has been raised for Help for Heroes.
The Deputy Commander of TFH, Colonel Andrew Jackson, said:
It was fantastic to see so many teams turn out at 7am to race round a rather muddy circuit of the camp. A cross-section of our community were represented: the PRT [Provincial Reconstruction Team], HQ TFH, the United States Marines Corps and our Afghan partners all running to raise around $2,000 for Help for Heroes.
Thanks must go to Lieutenant Ross Arnold and Corporal Prabeen Gurung for organising a most successful event.
Published 14 March 2011