HQ ARRC stages key Afghanistan training in Cornwall
Almost 1,000 personnel from the HQ Allied Rapid Reaction Corps (ARRC) and other agencies linked up in Cornwall last week for a key NATO training exercise at RAF St Mawgan.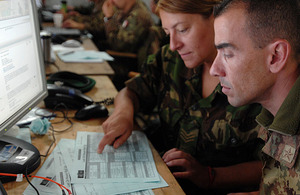 The Gloucester-based NATO personnel are now moving into high gear to prepare for their Afghanistan deployment next year.
The ARRC is a high readiness NATO HQ prepared for rapid deployment worldwide, and a large contingent of them deployed down to RAF St Mawgan for Exercise Arrcade Spear 2. The exercise was one of the final stages of their pre-deployment training for operational service in Afghanistan next year.
Elements of HQ ARRC, with personnel from 15 NATO nations, of which the UK is the framework nation, will deploy in support of ISAF, NATO's International Security Assistance Force, from January 2011 to January 2012.
A command post exercise aimed at training ARRC staff in the cross-functional nature of the ISAF Joint Command headquarters, Arrcade Spear 2 was based on an authentic Afghan scenario and used 'real world' problems and challenges of the type NATO forces face every day, with support from numerous subject matter experts.
The subject matter experts included General (Retd) David McKiernan, a former commander of ISAF, as the senior mentor, and the United Nations Assistance Mission in Afghanistan's Deputy Special Representative, Mr Robert Watkins, as an adviser. Other subject matter experts were found from NATO's Multinational Corps Northeast and the US V Corps, all of whom had recently returned from operations in Kabul.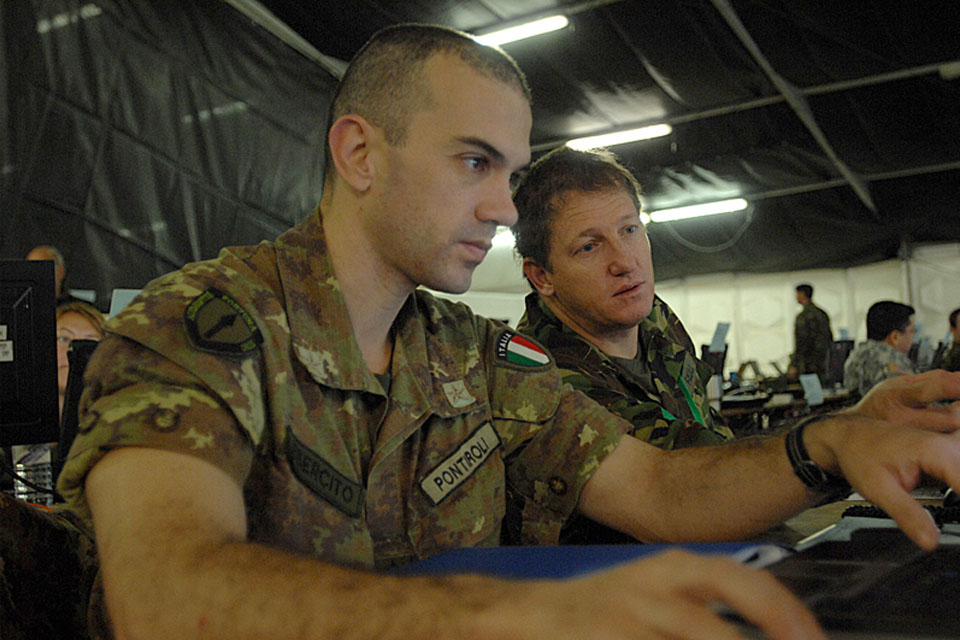 With their final mission rehearsal exercise at NATO's Joint Warfare Centre in Norway on the horizon, participants pushed themselves hard to get maximum benefit from the myriad complex scenarios that confronted them.
Based on a 'snap shot' of real events taking place in Afghanistan over one week in July, it was difficult for the exercise players to remember that it was just an exercise and not the real thing, so authentic was the exercise play for the hundreds of military and civilian staff.
Trainers and specialists on hand to give the ARRC staff the best possible training were drawn from numerous military and civilian agencies, including the Ministry of Defence, Foreign & Commonwealth Office, Department for International Development, the UK Stabilisation Force, the US State Department, and HQ Allied Force Command Heidelberg. Trainers had also travelled from as far afield as the USA, Afghanistan and Germany to offer their expertise.
Commenting on Arrcade Spear 2, the ARRC Chief of Staff, Major General Tim Evans, said:
The aim of this week's exercise is to train the staff in as realistic a setting as possible, so that when we deploy we can fully support the ISAF Joint Command HQ from the very start. It is vital that we are able to add value from the day we arrive.
Major General Evans also paid tribute to the support from RAF St Mawgan, which HQ ARRC hopes to use for many years to come:
All the staff at RAF St Mawgan have bent over backwards to help us run this exercise. They have laid on everything possible to help us and the facilities are superb.
Overseeing the day-to-day running of the exercise was Brigadier Paddy Allison, Chief of Training and Security Force Assistance, who said:
We started our training over a year ago, working up through conceptual training and study days on a whole range of issues, and this exercise is five days of really concentrated work, bringing in a whole range of subject matter experts. RAF St Mawgan is proving ideal.
Among the various visitors to the exercise were Ceri Evans, the High Sheriff of Gloucestershire, and his wife Sheila, who wanted to see for themselves just what is involved in staging such a big exercise.
Enthusing about everything he had seen, Mr Evans said:
It is both a pleasure and a privilege to be here. We are so lucky to have the ARRC based in Gloucester. I cannot believe that the HQ has achieved such a great deal in such a short time since arriving in the UK, and it is wonderful to see so many people from so many different nations working as such a tight-knit team.
HQ ARRC will deploy to Afghanistan to reinforce the ISAF Joint Command HQ for 12 months. Following its return, the HQ will assume the role of NATO Response Force (Land Component Command) HQ in January 2013 for one year.
Published 22 October 2010