How to grow your business: live webchat with Lord Young
Lord Young, the PM's special adviser on small business, will host a live webchat on Monday 13 May on how to grow a business.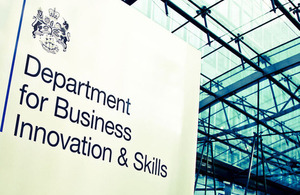 The webchat coincides with the publication of Lord Young's latest report Growing Your Business: a report which highlights help available to small and micro firms to develop their confidence and capability to grow.
Webchat details
Ask a question
If you'd like to ask a question in advance, email it to editor@businesszone.co.uk or on Twitter tweet with #AskLordYoung
Lord Young will be joined by Simon Finch of Finch Installations, who recently secured a £9,000 Start-up Loan, and Anthony Lau, founder of Cyclehoop and 2009 winner of The Pitch, to discuss how business owners can grow a successful company.
Growing Your Business: A report on growing micro businesses
The report Growing your Business: A report on Growing Micro Businesses includes:
an update on the government's Start-Up Loans programme
new developments to help growing small businesses such as the £30 million Growth Voucher programme
an enhanced role for business schools in their engagement with local small firms
further steps to open up public procurement to small suppliers
Published 10 May 2013