World news story
How integrated are you into life in Spain?
Take the Brits in Spain "Integrometer" survey and find out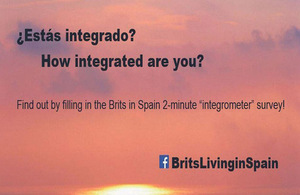 How long have you lived in Spain? How's your Spanish? Have you got all the right paperwork? And how do you match up with other Brits living in Spain?
These are some of the questions in a light-hearted, fact-finding and totally anonymous survey on the popular 'Brits living in Spain' Facebook page
The survey takes just a couple minutes to complete and will gauge how integrated into life in Spain you actually are.
Key results from the "Integrometer" survey will be shared via 'Brits living in Spain' social media channels, so you can compare your level of integration with other British residents.
The results will also help the British consular network behind 'Brits living in Spain' to continue to provide up-to-date, reliable information about the big issues that most concern British expats.
The 'Brits Living in Spain' Facebook page is one of the biggest expat forums in Spain and now has 17,000 followers. It offers a combination of factual information and a lively interchange of experiences and reliable information about expat life.
Residents who are Twitter fans and want the latest news from the Consular network can also follow @BritsliveSpain, as well as keeping up with the comments and thoughts of the British Ambassador on the well-followed @SimonManleyFCO.
Published 17 September 2015