Housing strategy announced to "unlock the housing market"
The Prime Minister and Deputy Prime Minister today announced a strategy to tackle the housing shortage, boost the economy and create jobs.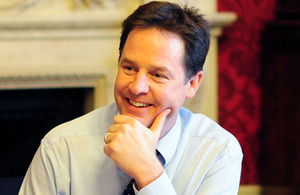 The strategy will also give people the opportunity to get on the housing ladder.
Speaking in the foreword of 'Laying the Foundations: a housing strategy for England', the Prime Minister and Deputy Prime Minister said:
For too long, millions have been locked out of home ownership. We want to build an economy that works for everyone, one in which people who work hard and play by the rules can expect to own a decent home of their own. This goes right to the heart of what this Government is about.

With this strategy, we will unlock the housing market, get Britain building again, and give many more people the satisfaction and security that comes from stepping over their own threshold.
Read the strategy on the Department for Communities and Local Government website.
Published 21 November 2011