Press release
Housing Benefit: data published on reforms to restore fairness
New figures released today show the number of households claiming Housing Benefit that have been affected by the removal of the spare room subsidy.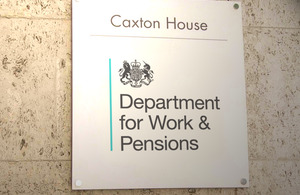 Changes introduced in April ensured Housing Benefit covered households for the number of bedrooms they actually need – whether they live in the private rented sector or the social sector – ensuring we bring fairness back to the system.
In total 523,000 claimants across the country had their Housing Benefit reduced in August by an average of £14.50 to reflect the fact they were living in social accommodation that was too big for their needs.
Each month has seen a steady decline in the number of households affected and there are already 24,000 fewer claimants than there were in May at 547,000.
The government is committed to supporting people as they continue to move into work, move into more suitable sized properties, come off Housing Benefit altogether, or look at other ways of adapting to the change.
Minister for Employment Esther McVey said:
It cannot be right that there were 2.1 million households on the housing waiting list in Great Britain, yet about 1 million spare rooms in social housing that were funded by benefits.

On top of this, 375,000 families have been living in cramped, overcrowded accommodation in England and Wales alone.

Clearly this was wrong and fairness had to be brought back to this outdated system.

By removing the spare room subsidy, we can start to ensure the right properties go to the families who need them most.
The latest figures have been published less than a week after an independent poll by Ipsos MORI revealed that 78% of respondents agreed with the need to take action on under-occupation of social housing.
More information
The government reduced entitlement to Housing Benefit for some working age tenants in April, 2013.
Those with 1 extra bedroom have a reduction of 14% to their eligible rent, and those with 2 or more extra bedrooms, 25%.
The reforms were introduced to bring fairness back to the system and make for a better use of housing stock.
The new rules only applied to people of working age; the following groups were either exempt or given extra support:
pensioners and their partners
homeless people living in certain types of temporary accommodation
live-in carers or carers staying overnight
people who receive care, support or supervision from their landlord
parents of students whose main residence is the family home
foster carers, provided they have fostered a child within the last 12 months or become a registered foster carer in the last 12 months
bereaved families will be given 1 year's grace to come to terms with their loss
parents of armed forces personnel are allowed to retain their adult child's room if they are deployed on operations
To help people affected by the welfare reforms adapt to the changes, £190 million funding is available to councils, with £25 million earmarked specifically for disabled people living in significantly adapted properties.
Contact Press Office
Media enquiries for this press release – 0203 267 5134
Press Office
Caxton House
Tothill Street
London
SW1H 9NA
London Press Office (national media and London area enquiries only – not questions about personal claims) 020 3267 5144
Out-of-hours (journalists only) 076 59 108 883
England and Wales (local media enquiries) 029 20 586 then 097 or 098 or 099
Scotland (local media enquiries) 0131 310 1122
Follow DWP on:
Published 13 November 2013