Household Cavalry inspected ahead of Royal Wedding
Some 150 soldiers and horses were assembled in Hyde Park, with The Life Guards wearing their red tunics with white plumes, and The Blues and…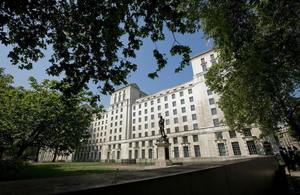 Some 150 soldiers and horses were assembled in Hyde Park, with The Life Guards wearing their red tunics with white plumes, and The Blues and Royals their blue tunics and red plumes.
The Household Cavalry Mounted Regiment mounts the Queen's Life Guard 365 days a year at Horse Guards, Whitehall. It is heavily involved in State visits and events such as the Queen's Birthday Parade. They also have a huge part to play in large scale national celebrations such as Jubilees and Royal Weddings.
The Household Cavalry Mounted Regiment have already been working hard for the previous month, exercising their horses and perfecting their riding.
Lieutenant Colonel Dan Hughes, Commanding Officer of the Mounted Regiment, said:
So far it has been a tough month with an extremely arduous training regime.
We are performing a crucial role in front of a world audience, but our soldiers are rising to the challenge. We have very high standards, and I am very happy with our performance today. We are on track for excellence on the day.
Commander Household Cavalry, Colonel Stuart Cowen took the inspection mounted on his 'cavalry black', Integrity. Having been involved in the Royal Wedding of Prince Andrew and Sarah Ferguson in 1986, he has a keen eye for detail and has great expectations of his men. He will also be riding at this wedding behind the Sovereign's Standard.
The Household Cavalry Mounted Regiment has had a long history of involvement in Royal Weddings.
Captain James Hulme said:
It is 349 years since the Regiment was involved in their first Royal Wedding, between Charles II and Catherine of Braganza of Portugal. It is great to see that heritage continue, and we hope it will remain so for years to come.
"Back then, our soldiers were veterans of war, and they very much still are today; our soldiers and officers have either recently returned from Operations in Afghanistan or are about to deploy."
When not performing Mounted State Ceremonial Duties, the Household Cavalry Regiment provide a Formation Reconnaissance force in their CVR(T) [Combat Vehicle Reconnaissance (Tracked) ] Scimitar and Jackal vehicles. They also work dismounted, and have been among the most frequently deployed units to Afghanistan since 2006, both employed in a front line war-fighting role, but also helping to mentor the Afghan National Army and Police Force.
As the Household Cavalry Mounted Regiment escort the newly wed Royal Couple, and HM The Queen from Westminster Abbey to Buckingham Palace, D Squadron Household Cavalry (HRH Prince William's former unit) will be in Helmand province, and will be wishing the happy couple the best of luck in their life together.
Published 18 April 2011