Household Cavalry enjoy a post-Jubilee seaside break
The horses of the Household Cavalry Mounted Regiment have swapped the hustle and bustle of city life for some well-earned rehabilitation among the sand dunes and surf of the North Norfolk coast.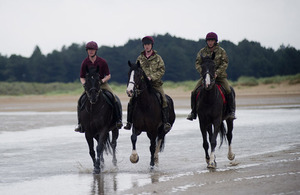 The break from public duties comes after a busy start to the year that has seen the regiment take part in ten parades since March.
Around 120 horses were able to enjoy a canter along the golden sands before cooling down with a quick dip in the sea during the two-week summer training camp at Stanford Training Area.
The ride along Holkham beach is the highlight of the two-week camp that sees the soldiers practise their military and equine skills, including show jumping and cross-country riding.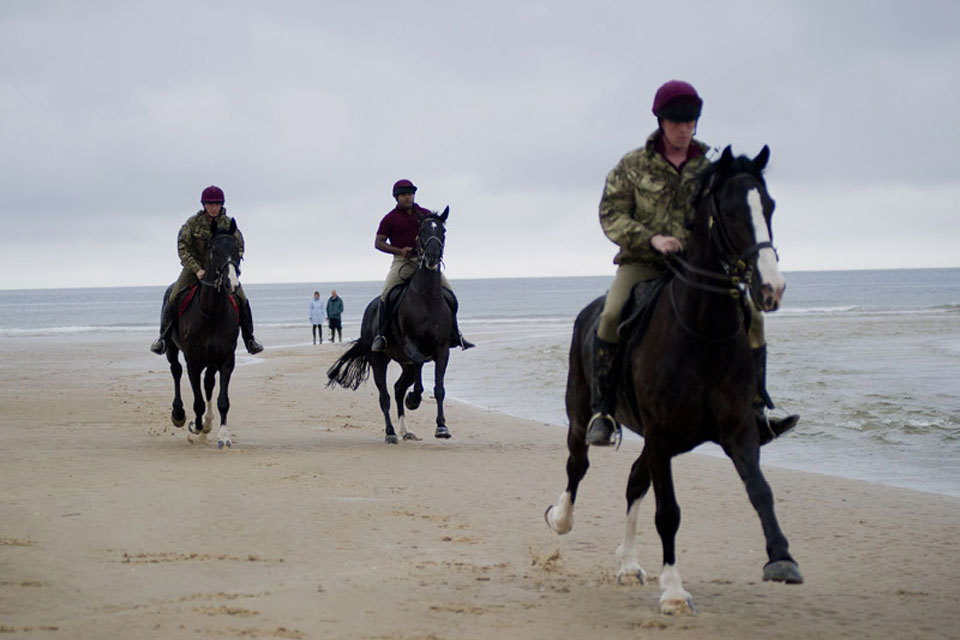 Captain Anton Wallis, a Life Guards officer, said this year's summer training was incredibly important and that the horses loved their annual trip to the beach:
We have just had one of the busiest years in our 350-year history and the men and horses deserve a thoroughly well-earned break," he added.
You can tell the horses are enjoying it - their ears are pricked up. It's good for their morale and it gives them time to relax after a busy period of ceremonial duties.
The summer break will conclude with a regimental open weekend brimming with activity and military splendour on 14 and 15 July.
The aim of the weekend is to give members of the public the opportunity to meet the soldiers and horses in a relaxed setting before they return to London to carry on with their ceremonial duties.
West Tofts Camp in Thetford, Norfolk, will be the venue for the event. The entrance fee for a car and family will be £15.
All profits raised will go to the Household Cavalry Foundation.
Gates open at 1000hrs and attractions will include a demonstration by the world-famous Household Cavalry Musical Ride, a tri-Service show jumping competition, the Band of the Blues and Royals and an international mounted 'skill-at-arms' tournament.
Captain Alex Owen concluded:
In the past we have had around 20,000 visitors to the open weekend; we hope this year will be just as successful.
Visitors to the open weekend are asked not to bring dogs, with the exception of guide dogs.
Published 9 July 2012