Hot competition at Army curry fundraiser
A lamb biryani has helped secure the title of 'Best Curry' at an annual charity curry lunch held at the Army's headquarters in Andover.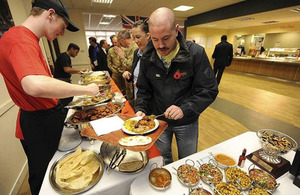 The competition for 'Best Curry' superheated rivalry between the chefs in the Junior Ranks, Sergeants, and Officers Mess kitchens at the annual curry lunch held in support of ABF The Soldiers' Charity.
At the end of the day it was defending champions the Junior Ranks Mess, led by Head Chef Carl Tarry, who came out on top, scraping a one-point lead to retain the 'Best Curry' trophy.
Lieutenant Colonel Philip Everitt, Commanding Officer of Andover Support Unit, was one of the judges. He said:
We all come in every day and eat in the Mess, but we don't see what goes on behind the kitchen doors and the friendly competition between the kitchens, so this was good fun and it gives them a pat on the back.
The Junior Ranks Mess was the deserving winner, with more of a choice, and it genuinely tasted better.
Part of the winning menu was the acclaimed lamb biryani that helped seal victory for the Junior Ranks Mess last year. It was prepared by Carl along with Sous-Chef Binod Rasaili and Curry Chef Gopal Kami:
We are definitely pleased to win again, and I think it's the right result," said Carl. "I'm really proud of my guys here.
Carl served as an Army chef for 18 years before being injured on patrol in Iraq. It took him three years to defy the doctors' predictions and learn to walk again before he returned to his passion for cooking with contractor Aramark to take on the role of head chef at the Junior Ranks Mess:
All our customers say this is the best food on camp, and we are proud of that," he said.
We go the extra mile making everything from scratch with fresh ingredients and I think that's where we stand out.
I've got the best chefs on the camp by far, and they are devoted and passionate about what they do. If you have got that in the kitchen, with good teamwork, then you can only have confidence in the result - so I was always confident we would win.
In truth it's not about the curry competition, it's about making the soldiers' lives better, and the soldiers' families' lives better, and that to me is priceless," added Carl.
I know what it's like, and it's a hard job soldiers do out there, so it's nice to give something back with holding the ABF Curry Lunch and make a difference.
Diners paid £3 to tuck into the curry lunches at the three different messes, with all money raised going directly to ABF The Soldiers' Charity.
Published 16 November 2012