Horses on holiday in Blackpool
A group of horses and soldiers from the King's Troop Royal Horse Artillery have travelled from London to Blackpool to indulge in a week of training and enjoy a break from the rigours of ceremonial duties.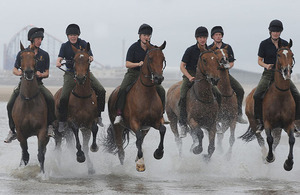 30 horses and 30 gunners have arrived at Penny Farm, a World Horse Welfare Centre on the outskirts of Blackpool, where half of the horses have been turned out to grass with the other half exercising daily on the beach.
Having recently taken part in the Windsor Castle Royal Tattoo, the Queen's Birthday Parade and the Royal Welsh Show, the soldiers have been looking forward to taking a break from their duties and being able to take the horses for a gallop along the beach.
Troop Right Section Commander, Captain Toby Haughey, said:
It's fantastic to see the horses out in the fields and able to have a gallop in the country air; they love pulling the guns and working together in London but a chance to relax for a week and to feel grass under their feet makes a real difference and they return fresh and raring to go.
The morning beach exercises are also a great opportunity to let the horses swim in the sea and to build skills and confidence amongst the younger gunners.
Captain Haughey continued:
Some of my soldiers have only been in the Army a matter of months and had never sat on a horse before they arrived at the troop.
This morning I was amazed to see how far some of them had come as they came galloping past, bare-backed and at full tilt. Then, jumping on board myself, we headed out to sea until all the horses were swimming - next stop Ireland!
The skills gained here will ensure the soldiers return to ceremonial duties more confident, and, when given back their saddles and stirrups, they'll stick on like glue.
On Wednesday 28 July 2010, Right Section will hold an event at Penny Farm which will include a variety of military equine displays, as well as a farriery and saddlery demonstration, and will give the public a chance to meet some of the soldiers and horses from the King's Troop.
Published 26 July 2010