News story
Honours list 2014: education and children's services
The New Year list includes headteachers, teachers, school governors, foster carers, people working in adoption and supporting families.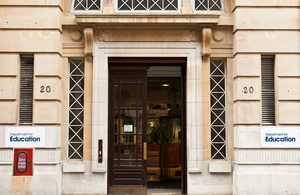 The New Year Honours list was published on Monday 30 December.
Chris Wormald, Permanent Secretary at the Department for Education, commended all of the recipients:
I congratulate everyone from across the department's sphere of business who have had their outstanding work recognised in the New Year Honours list. Their contribution is helping every child to fulfill their potential, whatever their background or circumstances.
| Award | Forename | Surname | Short citation |
| --- | --- | --- | --- |
| Damehood (DBE) | Kathy | August | Lately Executive Director of Education, The Education Fellowship, and lately Principal of Manchester Academy. For services to education. |
| Damehood (DBE) | Rachel | de Souza | Lately Executive Principal, Ormiston Victory Academy, Norwich, Norfolk. For services to education. |
| Knighthood (Sir) | Michael | Griffiths | Headmaster, Northampton School for Boys, and President of Association of School and College Leaders. For services to education. |
| Damehood (DBE) | Celia | Hoyles | Lately Director, National Centre for Excellence in Teaching Mathematics. For services to education. |
| Damehood (DBE) | Alison | Peacock | Headteacher, Wroxham Primary School, Hertfordshire. For services to education. |
| Knighthood (Sir) | Craig | Tunstall | Executive Headteacher, Gipsy Hill Federation, London. For services to education. |
| Knighthood (Sir) | Michael | Wilkins | Chief Executive, Outwood Grange Family of Schools. For services to education. |
| Award | Forename | Surname | Short Citation |
| --- | --- | --- | --- |
| CBE | Claire | Axten | Headteacher, Brookside Community Primary School, Somerset. For services to education. |
| CBE | Dr Jane | Doughty | Lately Director, Design and Development, Leadership Division, National College for Teaching and Leadership. For services to education. |
| CBE | Matt | Dunkley | Director of Children's Services, East Sussex County Council. For services to children, young people and families. |
| CBE | Hadyn | Evans | Headteacher, Sir John Cass Foundation and Redcoat Church of England Secondary School, Tower Hamlets, London. For services to education. |
| CBE | Maggie | Farrar | Lately Strategic Director for Leadership Development, National College for School Leadership. For services to education. |
| CBE | David | Holmes | Lately Chief Executive, British Association for Adoption and Fostering. For services to children and families. |
| CBE | Professor Stephen | Scott | Director, National Academy for Parenting Research. For services to families. |
| CBE | Louise | Smith | Lately Executive Headteacher, Ingrow and Long Lee Primary Schools, Federation, Bradford. For services to education. |
| CBE | Elaine | White | Headteacher, St. Mary and St. Thomas Aquinas Catholic Primary School, Gateshead. For services to education and voluntary service to people with disabilities. |
| Award | Forename | Surname | Short Citation |
| --- | --- | --- | --- |
| OBE | Susan | Alford | Headteacher, Dunkirk Primary School, Dunkirk, Nottingham. For services to education. |
| OBE | Gill | Bal | Headteacher, Wembley High Technology College, London Borough of Brent. For services to education. |
| OBE | Shahed Ahmed | Battiwala | Headteacher, Elmhurst Primary School, Newham. For services to education. |
| OBE | Lindsey | Clark | Executive Principal, Park View School, The Academy of Mathematics and Science, Birmingham. For services to education. |
| OBE | Connie | Cooling | Headteacher, Bousfield Primary School, London. For services to education. |
| OBE | Cathy | Court | Co-founder, Netmums.com. For services to families. |
| OBE | David | Cracknell | Director of Teaching and Learning, University of Chester Academies Trust, University of Chester, Cheshire. For services to education. |
| OBE | Sarah | Creighton | Executive Principal of The Hill, Gooseacre and Littleworth Grange Primary Academies, South Yorkshire. For services to education. |
| OBE | Shirley-Anne | Crosbie | Headteacher, The Chiltern School, Caddington, Bedfordshire. For services to children with special needs education. |
| OBE | Sally | Davies | Principal, Thriftwood Special School, Chelmsford. For services special needs education. |
| OBE | Caroline | Davis | Chief Executive, Families for Children. For services to children and families in south-west England. |
| OBE | Judith | Donnelly | Head, Pennywell Early Years Centre, Sunderland. For services to children. |
| OBE | Cynthia | Eubank | Executive Headteacher, Grinling Gibbons and Lucas Vale Primary Schools, Lewisham. For services to education. |
| OBE | Sarah | Evans | Lately Headteacher, King Edward VI High School for Girls, Birmingham, and Chair, Independent Schools' Teacher Induction Panel, for services to education. |
| OBE | Paul | Fallon | Independent Chair, Croydon Safeguarding Children Board, and Trustee, Crime Reducation Initiatives. For services to child protection. |
| OBE | Siobhan | Freegard | Co-founder, Netmums.com. For services to families. |
| OBE | Roland | Gooding | Headteacher, Valence Special School, Westerham, Kent. For services to education. |
| OBE | Sally | Hayes-Smith | Founder and Executive Director, Actions for Kids charity. For services to children and young people. |
| OBE | Sofina | Islam | Headteacher, Stanton Bridge Primary School, Coventry. For services to education. |
| OBE | Bridget | Lindley | Deputy Chief Executive and Principal Legal Adviser, Family Rights Group. For services to families. |
| OBE | Professor Sonia | Livingstone | Professor, Department of Media and Communications, London School of Economics. For services to children and child internet safety. |
| OBE | Edward | Lloyd | Chairman, Edward Lloyd Trust, London. For services to young people with intellectual disabilities. |
| OBE | Professor Jenny | Pearce | Professor of Young People and Public Policy, University of Bedfordshire. For services to vulnerable children and young people. |
| OBE | Terence | Prendergast | Lately Chief Executive, Marriage Care. For services to families. |
| OBE | Kathryn | Rudd | Principal, National Star College. For services to education. |
| OBE | Sarah | Russell | Co-founder, Netmums.com. For services to families. |
| OBE | Holly | Turner | Grade 7, Academies Performance and Brokerage North Division, Department for Education. For services to education and voluntary service to the Girl Guides in Darlington. |
| OBE | Gareth | Williams | Principal, West Kirby Residential School. For services in special needs education. |
| OBE | Linda | Wyon | Founder and Honorary President, Bath Child Contact Centre. For services to children and families. |
| Award | Forename | Surname | Short Citation |
| --- | --- | --- | --- |
| MBE | Jackie | Axelby | Trustee and Non-Executive Director, Azure Charitable Enterprises. For services to young people with special educational needs. |
| MBE | Nicholas | Back | Member, Cirdan Sailing Trust, Essex. For services to young people. |
| MBE | Patricia | Bleau | Founder, Chantelle Bleau Memorial Fund, and Foster Carer, Bradford. For services to children, young people and families. |
| MBE | Anne | Bryden | Lately Language Teacher, St Edwards Church of England School and Sixth-Form College, Havering. For services to education. |
| MBE | Kathleen | Buckley | Foster carer, County Durham. For services to children and families. |
| MBE | Jill | Carr | Human Resources Director, Pendennis Shipyard, Falmouth. For services to education. |
| MBE | Harold | Cockcroft | Foster carer, Oldham. For services to children and families. |
| MBE | Glenys | Cockcroft | Foster carer, Oldham. For services to children and families. |
| MBE | Anthony | Coffey | Teacher and Director of Learning for Performing Arts and Multi-Media, Landau Forte College, Derbyshire. For services to education. |
| MBE | William | Cox | Life President, Federation for Detached Youth Work, Leicester, and Chair of Trustees, Belvedere Community Activity Centre, Liverpool. For services to young people. |
| MBE | Bill (William) | Dennison | Chair of Governors, Parkview Academy, Chester-le-Street, Co Durham. For services to education. |
| MBE | Anne | Dixon | Volunteer and Organiser, Art for Youth, London. For services to young people. |
| MBE | Harriet | Foges | Foster carer, London Borough of Camden. For services to children and families. |
| MBE | Chris | Foster | Lately Higher Executive Officer, Education Standards Directorate Support Team, Department for Education. For services to education and the community in Durham. |
| MBE | Jeffrey | Gardner | Director, Berkshire Youth and Vice President, National Boys and Girls Club. For services to young people. |
| MBE | Ann | Green | Special Educational Needs Teacher, Speech and Language Centre, Croydon. For services to education. |
| MBE | Peter | Grover | Cub Scout Leader, 8th Norwich Sea Scout Group. For services to children and young people. |
| MBE | Lucie | Heyes | Social Worker and Media Spokeperson, College of Social Work. For services to children and families. |
| MBE | Margaret | Houghton | Head of French, Carmel College, St Helens. For services to education. |
| MBE | Roger | Hurrion | County Vice President, Greater London South West Scouts. For services to young people. |
| MBE | Elizabeth | Insley | Foster carer, Plymouth. For services to children and families. |
| MBE | John | Insley | Foster carer, Plymouth. For services to children and families. |
| MBE | David | Kemp | Music teacher and Assistant Headteacher, Queen Elizabeth Humanities College, Herefordshire. For services to education. |
| MBE | Michael | Kennedy | Birkenhead Youth and Community Worker, Merseyside. For services to children and families. |
| MBE | Muriel | Kimmons | Lately History teacher, Netherthorpe School, Derbyshire. For services to education. |
| MBE | Angela | Kirkham | Manager, Victoria Brook Childcare Centre and Nursery School, Chadderton, Oldham. For services to children and families. |
| MBE | Susan | Lloyd | Synthetic Phonics Advocate. For services to education. |
| MBE | William | Lonsdale | Teacher of the Performing Arts, Sandbach School, Cheshire. For services to education. |
| MBE | Michael | Lowry | Manager Barton Moss Secure Care Centre, Salford. For services to children. |
| MBE | Barrie | Martin | Chair of Governors, Queen Elizabeth's School, Barnet. For services to education. |
| MBE | Joan | Martin | Chair of Governors, Northampton School for Girls. For services to education. |
| MBE | Alison | Middleton | Senior Executive Officer, Academy Converters Division, Infrastructure and Funding Directorate, Department for Education. For services to education and the community in Rotherham. |
| MBE | Brian | Miles | Board Director, All Saints Community Development Company, Birmingham. For services to young people. |
| MBE | Margaret | Nicholson | For services to education in the north-east of England. |
| MBE | John | Payton | Co-founder and Lately Manager, Haslingden Community Link and Children's Centre, Lancashire. For services to children and families. |
| MBE | Derek | Phillips | Foster carer, Bedfordshire. For services to children and families. |
| MBE | Hazel | Phillips | Foster carer, Bedfordshire. For services to children and families. |
| MBE | Gwilym | Price | National Director of Sport, Independent Schools Association. For services to education and sport. |
| MBE | Ann | Rae | Chair of Governors, Selly Park Technology College. For services to education. |
| MBE | Mary | Richardson | Foster carer, Exmouth, Devon. For services to children and families. |
| MBE | John | Richardson | Foster carer, Exmouth, Devon. For services to children and families. |
| MBE | Dr Carol | Robinson | Special Educational Needs Consultant. For services to children with special educational needs. |
| MBE | Kathleen | Robinson | Chair of Governors, Bishop Thomas Grant School, Lambeth. For services to education. |
| MBE | Estelle | Rowe | National Director Headstart Programme, Engineering Development Trust. For services to education. |
| MBE | Chris | Smart | Chair of Governors, Our Lady's Roman Catholic Primary School, Princethorpe, Rugby, Warwickshire. For services to education. |
| MBE | Nigel | Spencer | Teacher, All Saints Church of England Primary School, Essex. For services to education. |
| MBE | Richard | Sutherland | Honorary Chair, Board of Trustees, Birtenshaw School, Bolton. For services to education and the community in Bolton. |
| MBE | Elliott | Ward | Chair of Governors, Dame Allan Schools, Newcastle upon Tyne. For services to education and to the community in Newcastle. |
| MBE | Councillor Alan | Weinberg | Chair of Governors, Beal High School, Ilford. For services to education and the community in the London Borough of Redbridge. |
| MBE | Jean | Wolstenholme | For services to children and young people in Lancashire. |
| MBE | Janette | Wood | Physical Education teacher and Sports Partnership Manager, Freman College, Hertfordshire. For services to education. |
| Award | Forename | Surname | Short Citation |
| --- | --- | --- | --- |
| BEM | Roger | Baker | Scout Leader, 3rd Southgate Scout and Guide Group, London. For services to young people. |
| BEM | Hilary | Baker | Assistant Scout Leader, 3rd Southgate Scout and Guide Group. For services to young people. |
| BEM | George | Beardsall | Founder, Marsden Sports Hall, Huddersfield. For services to children and young people. |
| BEM | Janet | Berlin | NSPCC Branch Chairman, Bromley, Kent. For services to vulnerable children and to the community in Bromley. |
| BEM | Philip | Brandeis | Founder, Chaverim, Salford. For services to children and young people. |
| BEM | Penny | Brookman | Volunteer Dance and Drama Teacher, Kintbury St Mary's Church of England Primary School, Berkshire. |
| BEM | Rose | Chandler | Lately Play Leader, Bolingbroke Playgroup, Wandsworth, London. For services to children. |
| BEM | John | Cliff | Volunteer in Child Protection, Bromley. For services to children and families. |
| BEM | Pamela | Cottle | President, West Gloucester Girl Guiding Division. For services to children and young people. |
| BEM | Joan | Cusack | Reading volunteer, Woodlands Meed School, West Sussex. For services to education. |
| BEM | Christina | Derrick | Team Manager, Safeguarding Children Team, Derby City Council. For services to children and young people. |
| BEM | Ann | Donnarumma | Volunteer in Child Protection and Cruse Bereavement Care, Bromley, Kent. For services to children and families in Kent. |
| BEM | Julie | Duffy | Chief Officer, the WHAT? Centre, Stourbridge. For services to children and families. |
| BEM | Michael | Dunning | Chairman and Trustee, Brunswick Youth Club, Fulham. For services to young people. |
| BEM | Clive | Gritten | Scout and Duke of Edinburgh Scheme Volunteer, Norfolk. For services to children, young people and the community in Norfolk. |
| BEM | Judith | Haughton | Lately Captain, 2nd Oldham Girls' Brigade Company. For services to children and young people. |
| BEM | Lily | Herbert-Blankson | Nursery Supervisor, Kings College, London. For services to children. |
| BEM | Maud | Hobbs | Volunteer, North Waltham Primary School, Hampshire. For services to education. |
| BEM | Diane | Hooley | Adminstrator, Eastcroft School, Kirkby, Liverpool. For services to education. |
| BEM | Michele | Jones | Field Officer For Integrated Youth Services, Kent. For services to young people. |
| BEM | Laurence | Loft | Lately Chairman, Local Safeguarding of Children Board, Blackburn with Darwen. For services to children and young people. |
| BEM | Patricia | Madden | Volunteer, Our Lady of the Rosary Primary School, Bristol. For services to education. |
| BEM | Barbara-Anne | Mills | Owner, St James Pre-School Link and Pre-school Carer, Bournemouth. For services to education. |
| BEM | Margaret | Rigby | Member, Chorley Trefoil Guild. For services to the Girl Guides. |
| BEM | Jenny | Salter | Volunteer, Green Street Green Primary School, Orpington, Kent. For services to education. |
| BEM | David | Spencer | Lately Founder and Lead Worker, Southmead Adventure Playground, Bristol. For services to children and young people. |
| BEM | Eileen | Withrington | School volunteer, St Jude and St Paul's Church of England Primary School, Islington. For services to education. |
| BEM | Gillian | Wood | District Secretary and District Scout Council, Bedfordshire. For services to children. |
| BEM | Christine | Yarborough | Senior Organiser, Banbury and Chipping Norton Home-Start. For services to children and families. |
Published 31 December 2013