Press release
Honours for the best of Britain overseas
The FCO announces 100 awards for Britons in recognition of exceptional and excellent achievements promoting Britain overseas.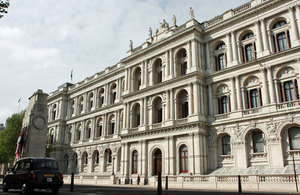 The Diplomatic Service and Overseas New Year 2014 Honours List recognises extraordinary people in a range of fields. There are CMGs for Laurent Beaudoin, Chairman, Bombardier Inc, and Dr Andrew Palmer, Executive Vice-President, Nissan, Japan, for their contributions to promoting British industry.
Awards also go to BBC cameraman, Darren Conway, who receives an OBE for services to British broadcast journalism. Head of Operations for the British Antarctic Survey, John Hall, gets an MBE for services to Antarctic science and well-known actress, Angela Lansbury, receives a Damehood for drama, charitable work and philanthropy.
Staff from the FCO recognised for their achievements include Ben Elliott, Crisis Centre Manager, who gets an MBE for his work providing assistance to British nationals overseas during crisis situations, a CMG to Dr Alastair McPhail, for services to British interests in South Sudan and an OBE to Joanne Adamson, for services to UK international arms control policy and the Arms Trade Treaty.
The Foreign Secretary, William Hague MP said:
I am delighted to see so many people recognised for their outstanding work in promoting our country overseas honoured in the New Year Honours list. Whether it is providing vital assistance to British nationals around the world, building prosperity for Britain or giving much needed community and development support in some of the world's poorest or most troubled countries, these people have all gone above and beyond for Britain.
Sir Simon Fraser, Head of the Diplomatic Service, said:
I am particularly proud of the FCO staff recognised in the New Year Honours List for their exceptional work. Each one of them has made an outstanding contribution to our country, often in difficult or dangerous situations. They have helped British people and protected and promoted British interests with distinction. I am extremely grateful to them all, and congratulate them on their awards.
Examples of other recipients from this list include:
Rachel BRIGGS
Director, Hostage UK. Awarded an OBE for services to hostages and the families of victims kidnapped overseas.
Over the last ten years, Rachel has been Director of Hostage UK, an independent charity set up by Terry Waite, which provides vital specialist services and support to hostages and their families during and after a kidnap.
On learning of her award Rachel said:
It is a huge honour to receive this award. The whole team at Hostage UK works tirelessly to help former hostages and their families. They give their time free of charge but with 100% commitment, professionalism and compassion. I consider this award to be an acknowledgement of what we have achieved together.
Matthew SEARLE
Chief Executive, Lucie Blackman Trust – Missing Abroad, receives an MBE for services to British citizens overseas, particularly missing persons.
Lucie Blackman's father set up the Trust after his daughter was murdered in Japan in 2000. Since 2008 Matthew Searle has built up the charity as a leading service to help other families stricken by tragedy or emergencies abroad. The Trust receives around 3000 enquiries a year on missing people and contributes to the resolution of about 85% of these.
On learning of his award Matthew Searle said,
I am both grateful and humbled to receive this award. I must acknowledge the support of my team, and the FCO, whose combined belief in both me and the Trust means we will be able to continue to help families in desperate need during the most traumatic times.
Darren CONWAY
BBC Cameraman. Awarded an OBE for services to British broadcast journalism
Over the past 20 years with BBC News Darren Conway has built up a reputation as the foremost television cameraman of his generation, working in almost every major war zone, including being embedded with British troops in Iraq in 2003, deployments to Afghanistan and most recently Syria. He has covered major conflicts for the BBC including Kosovo, The Congo, the Arab Spring, and historical events such as Famine in the Sudan, the Hong Kong handover and the Asian tsunami in 2004.
On receiving news of his award Darren Conway said:
This is an incredible honour for which I am extremely grateful. At the same time, it is very humbling to be recognised in a year when so many colleagues from my profession have paid the ultimate sacrifice, and many more are being held or have disappeared. My thoughts are with them and their families.
Gill FRASER
Lately Deputy Head of Mission, British Embassy, Tripoli, Libya receives an OBE for services to British interests in Libya
Since her arrival in Tripoli in 2012 Gill has led the Embassy response to a series of major crises in a very challenging and dangerous environment. She managed the aftermath of the attack on the British Ambassador's convoy in Benghazi in June 2012 when a close protection team member was badly wounded by a rocket propelled grenade, the UK response to the attack on the US Consulate in Benghazi and the bombing of the French Embassy in Tripoli.
On hearing the news of her award, Gill Fraser said:
I am so honoured to be given this award. While challenging and difficult at times, I look back positively at my time in Libya and remember with great fondness the excellent team I had the pleasure to work with. It was a real team effort.
Further information
Follow the Foreign Secretary on facebook and on twitter: @WilliamJHague.
Follow Simon Fraser on twitter: @SimonFraserFCO.
Follow the Foreign Office on twitter.
Follow the Foreign Office on facebook & google+.
Published 30 December 2013