Honorary MBE for assistant headteacher of Guru Nanak Academy
Education Secretary presents an Honorary MBE to Joseph Synott, an Irish citizen, for his services to education in Hillingdon.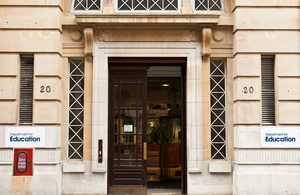 Education Secretary Michael Gove will today present an Honorary MBE to Mr Joseph Synott, Assistant Headteacher of the Guru Nanak Sikh Academy in Hillingdon, West London.
Mr Synott, an Irish citizen, received his award for services to education at a presentation ceremony at the Department for Education's offices in Great Smith Street.
He has been a teacher in the London Borough of Hillingdon for over 30 years, and became the first assistant head of Guru Nanak when he took up post in January 2000.
An exemplary teacher, Mr Synott has demonstrated a strong commitment to the education of many children throughout his career. He has forged strong links between the school, local businesses and community leaders, and played a leading part in Guru Nanak's conversion to an academy earlier this month. He has been singled out by the headteacher for his tremendous work on inclusion and community cohesion.
Commenting on the award, Michael Gove said
I'm delighted to be giving Joseph Synott his MBE. He is a teacher who clearly understands the importance of helping every pupil to do well. Teachers like Mr Synott are the backbone of our school system. He can rightly be very proud today as we recognise years of hard work and selfless dedication.
Notes to editors
As Mr Synott is not a British citizen, Michael Gove is presenting the award on behalf of Her Majesty the Queen.

Guru Nanak is an oversubscribed academy in a mixed socio-economic location in Hillingdon, drawing students from a wide area. It opened as a voluntary aided secondary school on 1 September 1999 and was the first Sikh faith school in England. It has specialist business and enterprise status. Graded as outstanding by Ofsted during its inspection in 2008, it converted to an academy on 1 November 2010.
DfE enquiries
Central newsdesk - for journalists 020 7783 8300
General enquiries - for members of the public 0370 000 2288
Published 30 November 2010