World news story
Honduras bids farewell to scholars heading to UK universities
The British Embassy says goodbye to five Chevening scholars.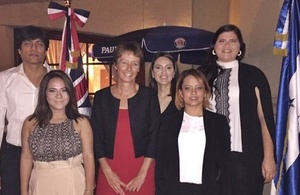 The British Embassy is delighted to have awarded five fully funded Chevening Scholarships to future leaders from Honduras for the 2017-2018 academic year. These successful scholars were chosen from over one hundred applicants through a highly competitive selection process and will study a wide range of Masters' programmes across UK universities.
Speaking during the pre-departure event, the British Ambassador to Honduras, Carolyn Davidson said:
The Chevening programme is a key part of our work to further deepen the strong cultural and educational ties between our countries. I encourage you all to return to Honduras after completing your courses and help contribute to the further development of your country.
The students receiving awards are:
Carlo Jimenez, University of Aberdeen
Scarleth Núñez, University of Sussex
Gabriela Destephen, University of Westminster
Isabella Clare, University of Liverpool
Regina Handal, Brunel University
Chevening Scholarships are the UK government's global scholarship programme, funded by the Foreign and Commonwealth Office and partner organizations. The scholarships are awarded to outstanding future leaders to pursue a one-year master's course in any subject and at any UK university.
The British Embassy is currently receiving applications for the 2018/19 academic year. For more information please visit the Chevening page
Published 30 August 2017