World news story
Honduran journalist visits the Falkland Islands
A group of five Central American journalists, including one from Honduras, visited the Falkland Islands from 5 – 12 March 2016 to learn more about the politics, economy and life in the Islands.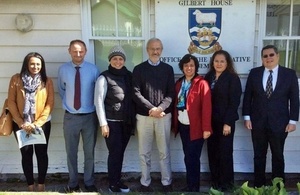 The invitation was made by the Falkland Islands Government (FIG) and the Foreign and Commonwealth Office (FCO) to media representatives from Panama (Diario La Prensa), Costa Rica (Diario El Extra), El Salvador (El Diario de Hoy), Belize (The Reporter Press), and Honduras (El Heraldo).
The journalists had the opportunity to meet at first hand with representatives of the Falkland Islands Government, including Members of the Legislative Assembly (MLAs) such as Barry Elsby, who visited Honduras in 2014. Both institutions explained the Islanders' views towards their engagement with the rest of Latin America and their desire to remain an Overseas Territory of the UK.
An important part of the visit was the opportunity it provided the journalists to understand the economy and the natural resources management in the Islands, for which they met with representatives of the Departments of Natural and Mineral Resources. The meetings highlighted the capacity of the Falklands to be economically self-sufficient, and with plenty of commercial and investment opportunities.
The trip also allowed the visitors to analyse the Islands from within, as well as the institutions that make the Falklands a land of opportunity for people from different nationalities that have come together to live there, establish a business, or study the rich environment. The journalists also visited some important tourist sites and engaged with the locals.
To mark the visit, Andrew Tate, Chargé d'Affaires at the British Embassy for Honduras, said:
I hope that this visit will allow the people of Central America to know more about the Falkland Islands and why their voice matters. The Islands present many opportunities such as their thriving hydrocarbons projects and strong fishing and tourism industries. I hope that this visit will also encourage a closer relationship with Honduras in the future, and highlight the importance that the United Kingdom gives to defending the Islanders' right for self determination.
Published 6 April 2016