Press release
Homes and Communities Agency publishes third Statistical Data Return
Private registered providers of social housing own 2,666,053 homes, a 0.6% increase on the total for 2013.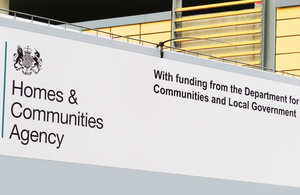 This is according to the HCA's Statistical Data Return (SDR) which has been published today for the third consecutive year.
The data come from an annual survey of all private registered providers (PRPs) in England and includes data on size and type of home, location and rents at 31 March 2014. Additional data for large providers with 1,000 homes or more include Right to Buy sales and acquisitions during the year.
Key trends include:
Private registered providers of social housing (PRPs) reported 2,666,053 units/bedspaces owned at 31 March 2014, an increase of 0.6% on the total for 2013. General needs units/bedspaces exceeded two million units for the first time (increasing by 0.7% since 2013 to a total of 2,002,180 units)
Affordable Rent stock has increased by 102% (from 39,594 units/bedspaces in 2013 to 79,815 in 2014), this growth being attributable to this being the main type of new social housing supply
Stock sold to tenants under the Right to Buy (RTB), Preserved Right to Buy (PRTB) and Right to Acquire (RTA) schemes has increased by 78% (to a total of 4,835 units) since 2012/13. The increases in tenant discounts offered to those qualifying for RTB or PRTB, part of the government's reinvigoration of these schemes, along with the associated advertising and publicity are likely drivers behind these rises
The total vacancies rate for self-contained general needs stock was 1.4% at 31 March 2014, the same proportion as for 2013. Within this total, there was a reduction in the number of vacancies in properties not currently available for letting, but vacancies in general needs properties available for letting increased by 21.1% between 2013 and 2014
The average net rent for general needs stock owned by PRPs with more than 1,000 units/bedspaces was £92.30. This represented an increase of 4.4% since 2013, reflecting both inflation-linked increases in target rents and convergence towards these target rents permissible as part of the current rent standard
Jonathan Walters, HCA's Deputy Director of Strategy and Performance, said:
The Statistical Data Return plays an important role in the HCA's work as regulator, helping to identify the key issues for the sector and individual providers and to prioritise our regulatory engagement. The 2014 return shows that the sector has continued to grow, and sheds light on some important trends in a changing operating environment, including the growth of Affordable Rent, and an increase in Right to Buy sales.
Data was collected from PRPs in April and May 2014.
The SDR consists of a statistical release document, a full data spreadsheet, full data set zip file, additional tables and a pre-release access list. All these documents are available from the SDR Statistical Release page.
Published 2 September 2014