Press release
Homes and Communities Agency establishes its approach to consumer regulation
Second review is published setting out the Agency's experience of the consumer regulation regime for social housing.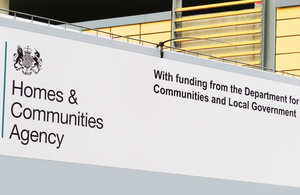 The Homes and Communities Agency (HCA) has today (10 September 2014) published its second 'Consumer Regulation Review'
The second review sets out its experience of the consumer regulation regime for social housing.
The HCA sets consumer standards covering a range of issues, including the quality of accommodation and tenancy arrangements. Landlords are expected to meet these standards, but under the new system (which came into effect in April 2012), the regulator does not have powers to monitor compliance. The regulator does have intervention powers but it can only use them following breach of a standard, and when that breach has caused, or could cause, serious harm to tenants.
The report sets out the regulator's approach and considers case studies and lessons learned.
Bronwen Rapley, Deputy Director Investigation & Enforcement at the HCA said:
This is the second year in which we exercised our revised legal remit. This report explains how we have gone about implementing the legislation on consumer regulation. As our experience of regulating under the new legislation and clarity around our role develops, we are keen to share broader lessons from our work with the sector. Again, we hope by explaining the arrangements, and providing case studies, we can help landlords – and the local bodies that hold them to account – ensure that problems do not get to the stage where the regulator has to get involved.
The HCA's Consumer Regulation Reviews for 2013/14 and 2012/13 are available to download from the HCA's regulation publications page
Published 10 September 2014