News story
Home Secretary visits Calais border controls
Tough UK border checks in France designed to stop illegal immigrants from entering the UK were seen today by Theresa May.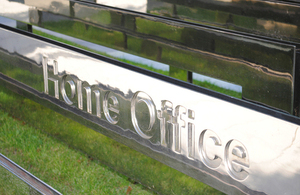 During a tour that included seeing operations at the Channel Tunnel and Calais ferry port, the Home Secretary met UK Border Agency officers, French and UK police and representatives from the Serious and Organised Crime Agency (SOCA).
Mrs May also met her French counterpart, minister Claude Gueant.
Real impact
'It is clear that the work of UK Border Agency officers based in Calais has made a real impact, stopping illegal immigrants entering the UK. This is also thanks to increased coordination between French and UK officers,' said the Home Secretary.
'We have seen a significant drop in the number of illegal immigrants attempting to evade the controls over the past year. The message is getting through – if you're not legal you're not welcome.
 
'I will shortly be announcing plans for a new National Crime Agency to tackle serious organised crime, which will include a border policing command and will bring together officers from SOCA, the police and the UK Border Agency.'
Seven days a week
Hundreds of UK Border Agency officers based at ports in France and Belgium work seven days a week to stop illegal immigrants before they step foot in the UK.
In 2010 officers stopped more than 9,700 attempts to cross the Channel illegally.
And in the past year, joint working has led to nine organised crime gangs being dismantled and more than 170 arrests.
Continued commitment
Mrs May and Minister Gueant confirmed today their continued commitment to tackle illegal migration and smuggling.
They also reflected on successes of the past year, notably the clearing of the 'jungle' by the French which has reduced the number of illegal attempts to cross the channel from more than 29,000 in 2009 to just 3,500 so far in 2011.
Published 6 June 2011