Home Secretary visits Britain's busiest airport
Anti-forgery equipment, drug detection scanners and border control checks were seen first-hand today by the new Home Secretary.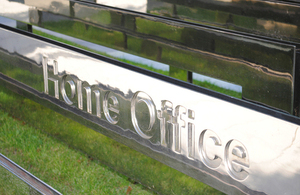 The new Home Secretary was given a tour of Terminal 5, where she met frontline officers from the UK Border Agency and was given a chance to see the latest detection technology in action.
During her airport visit, the Home Secretary saw staff at the border as they checked passports and quizzed passengers. She was also given a demonstration by detection dogs, saw forgery detection equipment and watched as officers used the latest technology to search bags for hidden, smuggled substances. 
The Home Secretary was also briefed by the Operation Paladin Unit, a joint UK Border Agency and Metropolitan Police team working at the border and in-country to identify child victims of trafficking and prosecute facilitators.
Statement from the Home Secretary
Theresa May said,'This was a valuable opportunity to meet frontline officers and see first hand the challenging work they carry out every day.
'Keeping Britain's border secure is a priority for this government - which is why it is crucial that we have vigilant border staff utilising the latest technology in our fight against the people traffickers, drug smugglers and illegal immigrants determined to come here and cause harm.
'The new government is committed to introducing a limit on the number of non-EEA migrants who come here to work, contributing to a reduction in net migration back to the levels of the early 1990s - tens of thousands not hundreds of thousands. If this is to happen successfully, our border must be stronger than ever before.'
Border Agency work at Heathrow
Border Agency successes at Heathrow include:
a 30-year-old Nigerian man who was caught in Terminal 5 with 1kg of cocaine - which had been swallowed in 95 packages - after officers became suspicious of his story and behaviour
three passengers attempting to smuggle more than 50,000 cigarettes into the country in their suitcases in a single day

five cases of impersonation of the rightful holder of the document
four cases of substituted passport photographs
three cases of substituted passport photograph pages
one case of a falsified UK visa
one case of a fraudulently obtained UK passport. 
The latter case involved a 54-year-old Bangladeshi man found with a fraudulently obtained United Kingdom passport of a 73-year-old. He had originally entered the UK ten years earlier using a passport in the same false identity. This had been obtained for him by an agent. He had no family in the UK, and was refused and removed to Bangladesh the next day.
Notes to editors
Airports across the UK deal with over 100 million arriving passengers each year. More than 87 percent of travellers to the UK are UK/EU/EEA citizens (source: Control of Immigration Statistics 2006).
Technology at Heathrow:
Conpass - A low-dose radiation body-scanner used on passengers who are suspected of concealing packages. The dose is far less powerful than a traditional x-ray and is in place across Heathrow
Iontrack & Ionscan - These machines analyse swabs taken from a passenger's baggage to detect traces of Class A drugs
Secure ID - This provides the front line with the capability of matching individuals to biometric visas issued, through verification of fingerprints
Cyclamen - This is a joint Home Office / UK Border Agency Counter-Terrorism initiative. It screens passengers for the presence of nuclear and radiological materials. Cyclamen capability is at the forefront of cutting edge technology, ensuring that the UK is actively deterring and detecting the illicit importation of radiological and nuclear material at points of entry 
forgery Detection - A range of techniques including powerful magnifying equipment, UV light machines and special machines, allow officers to look at documents in different light sources
detection Dogs - There are 13 detection dogs at Heathrow who search for a range of materials and substances: tobacco, cash, drugs and products of animal origin.
Published 14 June 2010