News story
Home Secretary visit to Northamptonshire
Home Secretary Theresa May visited Northamptonshire yesterday to hear about the work of the local police force in tackling crime and boosting efficiency.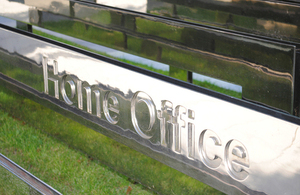 Ms May met with the Chief Constable Adrian Lee to discuss the issues the force is dealing with. She also met with frontline officers to hear about their experiences and views.
She was taken on a short walk through the Eastfield Estate in Northampton by the local Safer Community Team. The team which includes police officers and PCSOs were presented with an award by local residents earlier this year for their work in driving down crime and antisocial behaviour in the area.
The Home Secretary also met with the local residents association who had presented the award.
Home Secretary visit to Northampton on Flickr
Published 31 August 2011