Home Secretary praises Police Bravery Award winners
The Home Secretary praised Police Bravery Award winners at a London ceremony last night.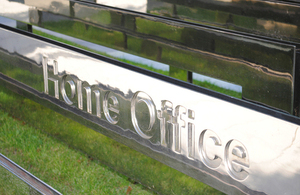 A courageous officer from the Metropolitan Police was voted the bravest officer in England and Wales at the 16th annual Police Bravery Awards at The Savoy in London.
The gala evening organised by the Police Federation of England and Wales, The Sun newspaper, and in partnership with Police Mutual, was attended by fifty-nine of the most courageous officers from forces throughout England and Wales.
Fitting tribute
Home Secretary, Theresa May, who presented awards at last night's ceremony, said: 'Our brave policemen and women are regularly called upon to risk their own safety to protect the people of Britain.
 
'These awards are a fitting tribute to the commitment and dedication of the officers in our police service. All officers nominated in the Police Bravery Awards have showed outstanding courage and stand as an example to us all. 
 
'We must all thank the winners; whose dedication is a testament to this country's magnificent police service and reminds us why we should all be proud of it.'
Gang warfare
PC Graham Hislop was given the overall award for his bravery in single-handedly tackling gang warfare after responding to a call to a notorious estate.
On arrival, he drove into the middle of two rival gangs fighting in the street, and they were armed with dangerous weapons including a petrol bomb. He bravely exited his vehicle and placed himself between the two groups.
In the midst of violent threats, he went on to arrest one of the youths, dispersed the fight and gave commentary to enable other officers to make arrests for affray as the gangs fled the scene on hearing approaching sirens.
Winners from each of the eight regions were also selected. Read more on the Police Federation website.
Police Bravery Awards 2011 on Flickr
Published 8 July 2011