News story
Home Secretary opens second reading of Immigration Bill in the House of Commons
The Immigration Bill makes changes to the UK's legal and policy framework, so that the immigration system can operate more fairly and effectively.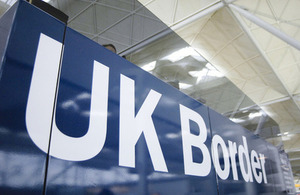 The Home Secretary opened the second reading debate for the Immigration Bill today (Tuesday 22 October). The bill continues the government's reforms to ensure that our immigration system is fair to hard-working people and legal migrants, while cracking down on those here illegally.
Immigration
The Immigration Bill will make it easier to remove those with no right to be here, reduce the number of appeals they can make, and simplify the process. In addition it will ensure that only legal migrants can benefit from and have access to the labour market, health services, housing, bank accounts and driving licences.
Home Secretary Theresa May said:
Those who play by the rules and work hard do not want to see businesses gaining an unfair advantage through the exploitation of illegal labour. They don't want to see our valuable public services – paid for by the taxpayer – used and abused by illegal migrants.

It is unacceptable that hard-working taxpayers have to compete with people who have no right to be here. The bill will begin to address these absurdities and restore the balance.
The bill will:
cut the number of decisions that can be appealed from 17 to four – preserving appeals for those asserting fundamental rights
extend the number of non-suspensive appeals – where there is no risk of serious irreversible harm, we should deport foreign criminals first and hear their appeal later
ensure the courts have regard to parliament's view of what the public interest requires when considering Article 8 of the European Convention on Human Rights in immigration cases
restrict the ability of immigration detainees to apply repeatedly for bail if they have previously been refused it
require private landlords to check the immigration status of their tenants, to prevent those with no right to live in the UK from accessing private rented housing
make it easier for the Home Office to recover unpaid civil penalties
introduce a new requirement for temporary migrants, for example overseas students, who have only a time-limited immigration status to make a contribution to the National Health Service
require banks to check against a database of known immigration offenders before opening bank accounts
introduce new powers to check driving licence applicants' immigration status before issuing a licence and revoking licences where immigrants are found to have overstayed in the UK
clamp down on people who try to gain an immigration advantage by entering into a sham marriage or civil partnership.
Published 22 October 2013